Contracts are an innate part of any business that relies on related dealings. They guide the entire cycle of a product/service delivery as enforced by the law. A well-managed contract promotes good rapport between both parties and helps a business flourish.
Contract Lifecycle Management (CLM) is a strategy that parties implement to track and manage contracts signed among their stakeholders. A CLM ensures a contract stays in its best form in terms of performance and compliance. Contract Lifecycle Management though not pivotal for businesses, can be an essential procedure as it renders numerous legal and financial benefits. 
As you move in this post, you will know what is contract lifecycle management and how businesses benefit by having a solid contract lifecycle management strategy in place.
What is Contract Lifecycle Management?
Contract Lifecycle Management is a procedure to track and manage a contract end to end during its life cycle. At every stage of the contract – right from the proposal to execution, storage, update, and expiry/renewal – CLM ensures that both parties benefit as intended. 
CLM also takes care of fundamental elements of a contract – mutual assent, validity, acceptance, adequacy, capacity, and legality, and assures that they are intact.
Besides, measuring the KPIs of contracts such as – risk score, contract stages, time-saving, response time – turns painless with an established Contract Lifecycle Management.
Why Businesses Need Contract Lifecycle Management?
Since 2018, businesses are increasingly recognizing the necessity of CLM. With the world turning digital, dealing with digital contracts will be spiralling. For this reason, experts expect that the affinity towards automating the CLM process will only be on the rise. Industry watchers also believe that the rising global investment in this sector is a notable trend. 
Between the order and the delivery, various instances might happen. You could discover an alternate way to save money and improve delivery. Or you might also lose money due to the silos in the process and manual errors. CLM can save you from the latter scenarios by increasing the probability of happier endings. 
Goldman Sachs finds that a business with an established CLM process enjoys:
Reduction in contract management operational and processing costs by 20%.

Minimize errors in payments by 80%.

Fast track its negotiation cycles by as much as 50%.
In addition to such tangible benefits, here are seven ways how Contract Lifecycle Management can help businesses.
#1: Establishes a streamlined process
Contract management involves various stages – authoring, negotiation, approval, storage, tracking, and reporting. Mishandling of the contract at any stage of its lifecycle can prove detrimental to the business reputation.
Contract Lifecycle Management creates a streamlined process that makes handling and working with the contract effective at every step.
#2: Simplifies tracking and monitoring
Monitoring for milestones, timelines, compliance, and other parameters is a crucial part of contract management. A proven contract management program tracks contracts for potential risks and issues and alerts the teams. Thus, a CLM tool is the saviour of time, effort, and reputation for companies.
#3: Eliminates human-related roadblocks
Manually managing contracts consumes immense time and effort of various teams. The process also includes chances of errors due to human handling and intervention.
Experts notice that such human-related errors are one of the main roadblocks in contract management. With an automated CLM process, businesses can eliminate such concerns effortlessly.
#4: Ensures adherence to compliance 
Compliance is a vital aspect of any contract. Any deviation from compliance or contractual obligations can cost companies both financially and legally. Hence, to avoid litigations, contract lifecycle management is indispensable to maintain compliance. 
#5: Eases collaboration
CLM offers a centralized repository for the storage and handling of contracts. CLM tools store contracts in secure clouds that assure privacy and security. Teams that work on the contracts can access them safely and securely in a collaborative approach. 
#6: Cuts costs & s
aves time by eliminating delays
PriceWaterCooper finds that minimizing and eliminating errors and inaccuracies in the buy and sell-side of a contract realizes 2% savings in their annual costs. An automated and managed CLM process saves money by eliminating compliance penalties, payment errors, and opportunities otherwise lost due to manual errors. 
Additionally, contract management systems come equipped with features that save time in searching for contracts. With their streamlined functionalities, they minimize errors and avoid reworks, thus eliminating delays of any sort.
#7: Enhances customer trust & brand reputation
A well-drafted and managed contract plays a crucial role in earning customer trust and meet the customer expectations. It elevates the brand credibility and increases the chances of customer retention. Studies find that wrong forms of agreements or terms are one of the factors that lead to value leakage and brand reputation.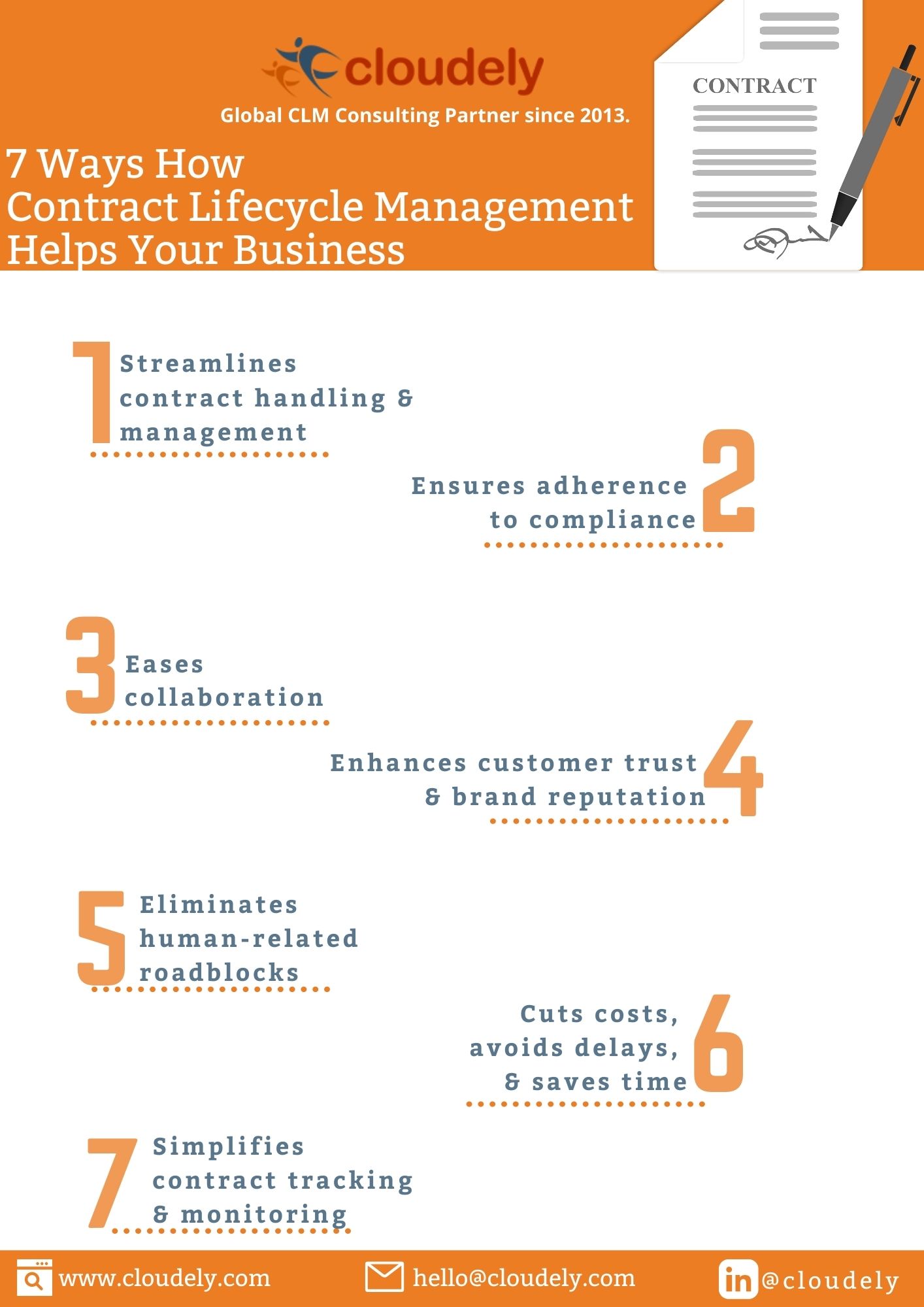 Cloudely for CLM
With the world trending towards digitization, contract lifecycle management is vital for every business. Effective contract management helps businesses to garner enhanced credibility, avoid penalties, save time and effort, besides improving governance. 
At Cloudely, we are experts in offering Contract Lifecycle Management Solutions from implementation to adoption. Reach us at hello@cloudely.com to know how your business can benefit from contract management and avoid revenue leakage.