The recent years and the coming future are a time of fast-paced transformation. This period is a critical juncture where experts warn of one vital factor that can impact global businesses – the skills gap.
The pandemic-driven changes in recent years demand both employers and students to be focus on skilling to meet the industry demands.
Placement and training experts at Cloudely believe that the skills gap challenge can be handled by training the students with the fastest growing job skills.
This article throws light on the skills gap and its severity. It also brings forth the best practices institutions and corporates can adopt to bridge the skills gap.
Skills gap: A myth or fact?
COVID-19 double transformed the way we live and work. With the markets and industries offering new opportunities along with challenges, skilling up with the fastest growing skills is the prudent option for students now. 
The statistics from Course Era as given below are self-explanatory in this context:
By 2025, automation is set to displace 85 million jobs; employees must have to upgrade their core skills by 40%.
The same automation revolution will create 149 million new technology-oriented jobs by 2025.
Experts foresee the emergence of almost 97 million new roles by 2028 with a labor distribution among humans, machines, and algorithms.
65% of school children in school today will work in entirely new job types that don't yet exist. 
On the other hand, businesses have their challenges too:
The Great Resignation led to millions of vacant roles globally in technology alone. 
The US and the UK witnessed record-high job vacancies in 2021.
69% of global companies are facing the heat of a talent crunch.
Driven by such challenges, companies are ready to invest in various channels to overcome their talent paucity and boost talent retention.
For instance, with employee attitudes towards work evolved during the recent past, 35% of CEOs have expanded benefits in the past year to strengthen their ability to retain talent. 
In the contrast, there is no dearth of graduates entering the market every year worldwide. However, the real challenge is finding candidates with job-ready skills.
The percentages of industry-ready fresh graduates in the USA are 34%.
Employers in the UK observe that only 48% of college pass-outs are employable.
According to Skill India Report, 46.2 percent of students are employable in 2022 in India.
Why should we care about the skills gap?
Undoubtedly, the skills gap debate is a recent one. With automation penetrating every industry and digital transformation is the need of the hour, the job landscape drastically evolved. Businesses are in the need of digital transformation experts like never before.
Skills gap, the term popularly used to describe the gap between the industry expectations and the available talent pool in the reality, is hence worth focusing on.
Reasons for skills gap
The cause of the skills gap is deeply rooted in the education system with other factors contributing to it. The necessity to revamp the syllabi and teaching methodologies to create the professionals for tomorrow is imminent. 
Additionally, industry experts observe that more students have to realize the potential of internships in becoming industry-ready.
Currently, the number of students that are keen on internships is not quite encouraging. A closer look at the reasons for the same reveals the following reasons for this trend: too many classes to attend, scarcity of paid internships, and students not coming forward for unpaid internships.
For instance, 43% of internships at for-profit companies are unpaid. Such trends are drifting students to earn through gig jobs to make money and experience simultaneously.
On the other hand, companies are increasingly expecting better tech and IT skills even from fresh graduates. With pressure on outcomes and a drastically emerging-market landscape, companies are tending to gig skilled gig workers for instant productivity than to invest in training.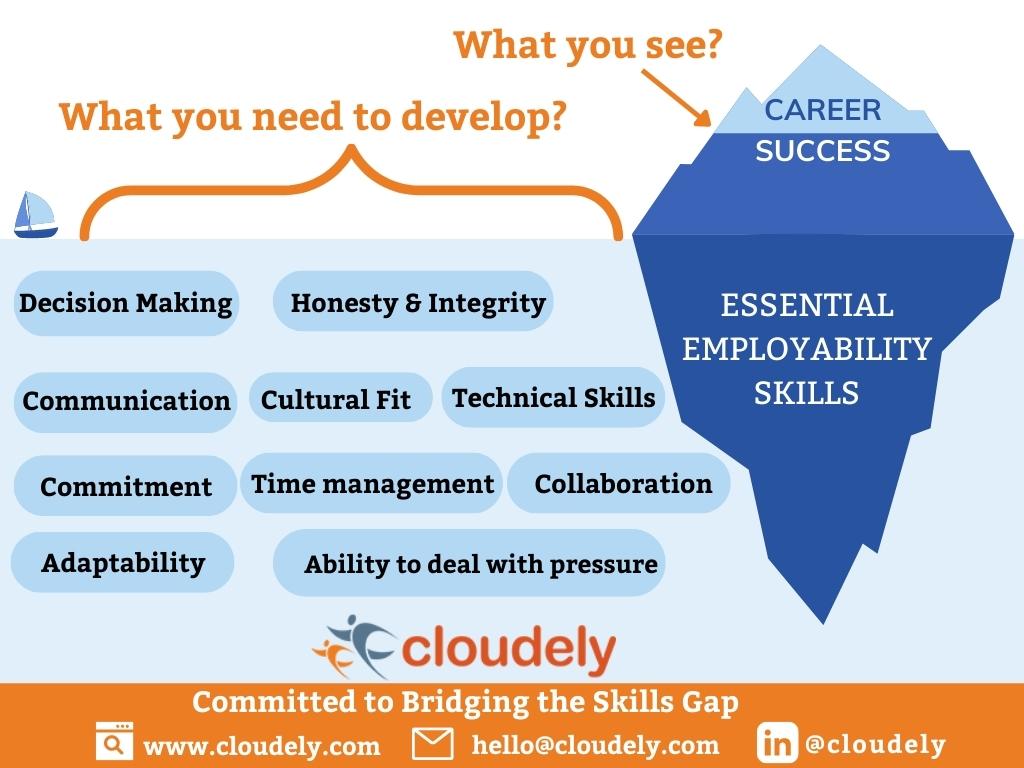 The Fastest Growing Skills for Students
At this juncture, it is imminent to inspect the skills students are missing in this gig-economy and digital transformation era and train them accordingly.
Course Era mentions the following tech skills as the Fastest Growing Digital Skills of 2022 in the same order:
Product Design

Plotting Data 

User Experience Design

Statistical Visualization 

Security Strategy

Cloud Infrastructure

Supply Chain Systems 

Social Media 

Operations Management 

Business Process Management 
Furthermore, widening the lens implies that the talent crunch is not just limited to the technology domain. Varied industries including STEM (science, technology, engineering, and mathematics), healthcare, IT, the creative sector, and trade are on the verge of a skills gap.
A Project Luminate report hints that the following professionals need reskilling to fill the skills gap:
Nurses 

Engineers 

Web designers 

Chartered accountants 

Teachers

IT user support technicians

Business sales executives 

Design and development engineers 

Programmers and software developers 

HR and industrial relations officers
Hence, in addition to the tech skills mentioned above, there is a need for students to learn and improve on the following non-tech skills:
Creativity

Persuasion

Collaboration

Adaptability

Emotional Intelligence
Role of students in bridging the skills gap 
Students have diverse options to hone their existing skills and become more employable. Here are effective ways students must utilize to become industry ready:
Realize that real-time experience is as vital as scores in academia.

Participate actively in extra-curricular and co-curricular activities at the college level to develop skills holistically.

Seek the advice of mentors and seniors to identify the best-suited roles that align with their interests.

Utilize the internships irrespective of the pay. Internships are a great way to connect with employers and maximize the opportunity of being hired to a full-time role when the interns surpass the employer's expectations.

Identify their strengths and weakness and build their self-confidence by seeking expert tips and learning industry-ready skills.

Master the art of writing resumes and highlight their capabilities convincingly.

Be cognizant of industry trends and enroll in training and certification programs to grab high-paying jobs.
Role of corporates and educational institutions
With the future knocking at our doors, it is the responsibility of both the educational institutions and the organizations to train and hone graduates to be industry-ready. Here are some practical ways to combat skills gap:
Collaboration between educational institutions and corporates
Industry leaders must invest in training programs and ensure they reach the university level. By collaborating with educational institutions, corporates can create a wider pool of future-ready workforce in a shorter span. 
Turning curricula more industry-oriented
Educational experts must introduce emerging technologies in the curriculum to prepare the students meet industry requirements. Special attention to the final and pre-final years is a must. A more practical approach for examinations with scenarios from industry challenges can impart the gist of real-time challenges to students. 
Encouraging internships that improve employability rate
A proactive approach from university mentors and professors in creating awareness about the importance of internships helps students realize their potential. Collaboration between educational institutions and companies to offer internships and summer training to students is a sensible strategy.
Encourage higher-order thinking in students
The corporate industry demands employees to be multi-tasking, constantly learning, and adaptable. Students must focus on learning higher-order thinking and learn employability skills such as decision making, verbal communication, planning, organizing, collaboration, commitment, adaptability, honesty and integrity, reliability, ability to deal with pressure, motivation, and cultural fit.
Take the "train the trainer" approach more seriously
To infuse essential job skills in students, colleges must invest in developing the technical skills of faculty. Sponsoring faculty learning and collaborating with industry partners to train the trainers is a proven antidote for the skills gap of both students and the faculty.
Cloudely's Commitment to Upskilling Students
Cloudely is committed to bridging the skills gap created by theoretical knowledge and training with the essential job skills for students to make them match the employer's expectations. Our training solutions and internship offerings align with industry demands with an intensive focus on practicals and projects and testing the tools and technologies. 
Our trainers are globally renowned industry experts mastering the art of training and teaching learners to strengthen them technically. Our value proposition lies in the fundamental principle of practice: we make our students practice under the guidance of mentors and hone them into confident professionals ready to solve the industry challenges head-on.
Collaborate with us to train your students and faculty in emerging technologies. Boost your students' employability skills and establish your reputation as a placement-assured educational institution.
Get in touch with our expert trainers to know more about our training, certification and internship programs right away! Let's together make the skills gap a thing of the past.