Custom software development is one of the prime necessities of businesses. Logically, on-the-shelf software solutions may not cater to the needs of businesses and entrepreneurs all the time. The products themselves are either expensive, not scalable, or both.
Companies that identify their business requirements and have clarity on the kind of solution they would like to implement consider developing customized software. According to a report published in Your Story, 87 percent of IT experts acknowledge the power of custom software solutions.
If you have been considering custom software development but not fully clear if your business needs one, this post is for you. In this article, we decode what is custom software, what are the benefits of custom software development, and why a business should opt for custom software development.
What is custom software?
Custom software, also termed tailor-made software or bespoke software, is a technology solution specifically designed for a company or business.
For instance, there may be multiple ready-to-use billing software solutions. However, your industry may be complex, and you would want one customized to its needs. As another example, a manufacturing company would have a different billing system and processes included in comparison with a retailer or an e-commerce company. Here's where custom software comes to the rescue of businesses.
Why should you use custom software?
Your business needs custom software for three main reasons: stay ahead of the game, provide better customer service, and stay agile with the changing technology and market trends. As we move ahead, we shall delve more into the benefits of custom software development.
Which industries use custom software?
Thanks to their benefits, practically every industry uses custom software. Custom software development is not a new concept of any sort. Companies have been leveraging their advantages for ages.
Financial services: Often, these industries are spread across multiple locations and serve global customers. This pushes them to own custom software that can help serve their customers to the mark and providing state-of-the-art cybersecurity.
 Healthcare: The regulations that healthcare companies should meet necessitate the need for custom software for the companies in this industry. Each organization has its way of manufacturing drugs, testing, licensing, and marketing, which implies a custom software will help them streamline all these tasks effectively.
Contract management: Businesses are increasingly shifting towards a mix of regular employees and a gig workforce. This means you will need better contract management to deal productively with contract employees and full-time employees alike.
Businesses with complex billing procedures: Billing is one of the common aspects of any business. That said, the process and time taken along with the steps involved might vary from business to business. For some businesses, selling starts even before the customer approaches them, while for others, billing can be as simple as customers checking out from the cart with very few clicks. Such businesses which involve the participation of the whole sales and marketing team in the billing process would benefit better from custom billing software.
When do you need custom software?
It can be tricky to decide either to use on-the-shelf solutions or to invest time and money in custom software. Here are some questions which you may ask yourself to understand if you need custom software.
Do you sense a stagnancy in your business?
Find it tough to retain customers?
Worried that customers are drifting to competitors?
Unable to realize revenue through customers show interest in your products and services?
Still, using outdated software solutions across your business?
Your team finds it difficult to stay updated on the inventory, billing, and customer service?
Planning to integrate your systems to make them work seamlessly?
If your answers are affirmative to these questions, then it's time for you to invest in custom software without a second thought.
Benefits of custom software development
At the first sight, custom software development might sound like an investment. Rather, you would want to prefer ready-to-use software that is easy to procure and implement. However, if you study the benefits of custom software, appreciating why so many companies prefer custom software becomes easy.
Benefit #1: A solution made for you
One of the prime benefits of custom software development is the customization aspect. The software itself will be wholly suited to your needs and specifications. Thus, it allows you to shape it according to what you and your business require. You will have a crucial role in the development process and enjoy the freedom to direct the coding and requirements for the software.
To attain the exhaustive benefits of custom software, you must have clarity on your business functionality and needs. The teams that develop the software will require detailed inputs about requirements and you should be able to provide the same to them. It helps them craft the best custom solution for your business. Thus, in the end, they will be able to give highly optimized software for your business.
This approach is very distinct from general software products found in the store because their makers do not design them keeping your organizational specific needs and challenges in mind.
Benefit #2: A lucrative and guaranteed return on investment
Some business owners may hesitate to opt for this process even though the benefits of custom software development support its popularity. The reason for hesitation is often the supposedly high cost at the beginning. Many business owners who are new to custom software ask – is custom software expensive?
While custom software costs more than the normal software meant for generic purposes, it also guarantees a great return on investment for the company, provided that you design it keeping your organization's core business needs in mind.
Custom software encompasses your company's missions and goals to accelerate its growth and profits. The control in developing the software is unprecedented. Many organizations can use their custom software for years without the need of any other external software. This advantage is only one of the benefits of custom software development.
Benefit #3: Scalability and the control to add and remove features
As organizations grow, their goals and objectives change. This change is normal and sometimes expected. One of the benefits of custom software development is that organizations have complete control to change the software code. They can choose to add and remove features as and when they like to adhere to their updated requirements.
Such custom software can thus include an aspect of scalability, where organizations can change the software's capacity and increase or decrease it. Most benefits of custom software development revolve around the fact that it is customizable.
Benefit #4: Friendliness with third-party software
Ease of integration with a third-party application is one of the substantial benefits of custom software development.
Most on-the-shelf software is generic, and integrating them with third-party software may be challenging. Nevertheless, sometimes organizations may require additional features on a priority basis. If these features are only available in the market, the organization would want to buy them as soon as possible.
Having custom software onboard will help organizations will help integrate their software with other apps of their choice without worrying about backfire issues. The API that developers include in the software allows it to connect with other applications and leverage their features. This flexibility helps an organization immensely to expand its work functionality in a shorter time.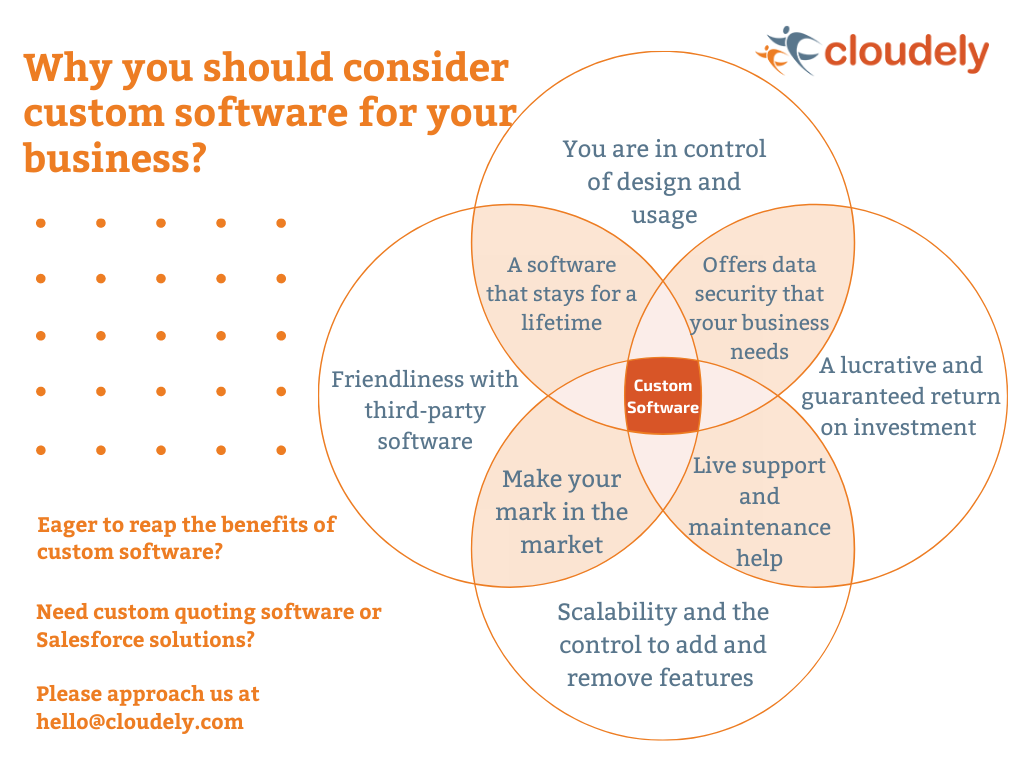 Benefit #5: A software that stays for a lifetime
Yes, creating and implementing custom software takes time, energy, and cost. However, one of the benefits of custom software development surrounds its lifetime. However, according to a recent study by DesignRush, once an organization buys the software, they do not need to discard it for at least ten years.
Since the benefits of custom software development are its nature to encompass the organizational needs, the company will have a solution that aptly answers its requirements. Besides, this one-time investment keeps you paying a good ROI every year with increasing returns.
As comfortable as it sounds, they don't need to fully remove the software from their systems because it can always be scaled up or down. They can change the features, add new ones, and discard old ones.
Benefit #6: Offers data security that suits your business
Because of the unprecedented rise in global cybersecurity threats, data security is now indispensable for any company. Ready-to-use software mandates supplementary data security solutions specific to them, which is just not possible every time. Additionally, every organization needs to have its updated security system. Companies need to invest in security measures and protocols, but the cost can be too much at times.
The benefits of custom software developments are that they help the company secure its data, eliminating the need to spend an extra amount on security measures. Thus, in the end, it helps companies maintain their trust levels and competitiveness in the market.
Benefit #7: Make your mark in the market
The competition out there is fierce; as a business owner, taking the risk to lose either a customer or the position in the market is more than impractical for you. With custom software, you can gain the trust of stakeholders, earn the loyalty of customers, and take your brand to the next level. It is all because of the most attractive feature of custom software design – its flexibility in creation that precisely suits your business and its services.
Related: How to choose a business partner?
Benefit #8: Live support and maintenance help
A proven custom software provider offers live support and maintenance helps to ensure that your business runs smoothly without any hassles. You will enjoy the freedom to maintain your business as per your convenience. Thus, your services and customers connect seamlessly. This takes your business, reputation and market presence to the next level.
Ready to take your customer service and revenue realization to next level with custom billing and quoting software?

We are here to help with our expertise. Cloudely Inc. has been offering custom quoting software and contract management solutions to global businesses since 2013. Our success secret lies in understanding your business needs comprehensively and developing custom billing and quoting solutions in your budget.

Please reach us at hello@cloudely.com to know more details.

Check our wide range of solutions at https://cloudely.com/.

Schedule an appointment at https://cloudely.com/contact-us/.

Connect with us on LinkedIn and receive our latest updates.