CRM software is an integral part of any business similar to marketing and sales. As its name implies, CRM Platform is an effective way to handle customer relation management. The CRM benefits are not limited to sales and marketing teams but also extend to commerce, service, and IT teams.
Additionally, CRM benefits businesses of any size and domain. The best CRM software can cater to customer needs across diverse industries such as financial services, healthcare, logistics, travel & hospitality, pharmaceuticals, non-profits, education, and eLearning. 
Specifically, from customer retention to streamlining sales processes, the benefits of CRM for small businesses are plenty. As we move ahead in this detailed post, we will know more about CRM benefits and why CRM is important for businesses.  
What is CRM?
CRM, a popular acronym in the business world, stands for Customer Relationship Management. CRM software offers a centralized platform to manage, store, organize, track and improve prospect and customer relationships. 
By leveraging CRM platforms, businesses can do more – analyze customer behavior with the insights of their purchase transactions, optimize sales and marketing approaches, and offer proactive services that increase customer satisfaction and retention.
Why do businesses need CRM?
Digitalization and social media erased the limitations that customers had in approaching businesses. Customers have higher expectations from businesses than bearlier. Today, potential customers can purchase and contact businesses over multiple channels – email, phone, social media, chatbots, and other marketing channels, round the clock.
Such interactions generate streams of valuable prospect and customer data, which if not gathered and organized can lead to revenue loss. A CRM platform eliminates these hassles in collecting, organizing, and saving the data and helps all related teams to access them for seamless collaboration, customer support, and satisfaction.
The growth of CRM software
CRM tools originated to solve the pain point of organizing customer data. Today, they are potent enough to help businesses do more.
According to the survey of GlobalData – a leading data and analyst firm, the investment in CRM software in India alone is estimated to reach US$2.3bn in 2023, with a compound annual growth rate (CAGR) of 3.3%.
Experts predict a brighter future for CRM tools in the age of artificial intelligence (AI) and machine learning (ML).
Thanks to such advancements that make social and mobile integration of CRM feasible, one of the prime benefits of CRM for businesses is the new-age way of offering and enhancing customer experience. CRM is an indispensable tool any business owner or an aspirant keen on starting a business just cannot ignore.
Best CRM Software List
There are numerous CRM tools with diverse features and integration capabilities. Gartner's survey on the best CRM software identifies the below CRM tools as top-rated:
Egain
Freshdesk
Microsoft Dynamics
Oracle
SAP
Salesforce
Service Now
Sugar
Zendesk
Zoho
How does CRM work?
CRM tools simplify end-to-end contact and customer management. CRM systems track customer behavior and gather details such as website, contact email, phone number, social media profiles, and other relevant information, including their purchase preferences. 
The CRM software organizes this data and alerts the customer service, marketing, and sales teams, thus guiding them about the customer's current stage in the marketing funnel. Understanding such 360-view of the customer empowers businesses to offer personalized services and offers to customers.
The best CRM software enables integration with business apps and tools. Such CRM tools streamline document preparation, signing, accounting, billing, gathering customer feedback, and more. Such best CRM software simplifies following up with customers, increases the forecast and sales efficiency, and customer lifetime value. 
Putting it simply, CRM solutions are indispensable to offer personalized customer service.
Related Read: How to set SaaS OKRs?
8 Ways CRM Benefits Your Business
CRM tools are a new-age way to handle and offer high-end customer service. In addition, with CRM software, businesses can boost the team's productivity, streamline end-to-end sales and benefit from the detailed insights, and craft better marketing strategies.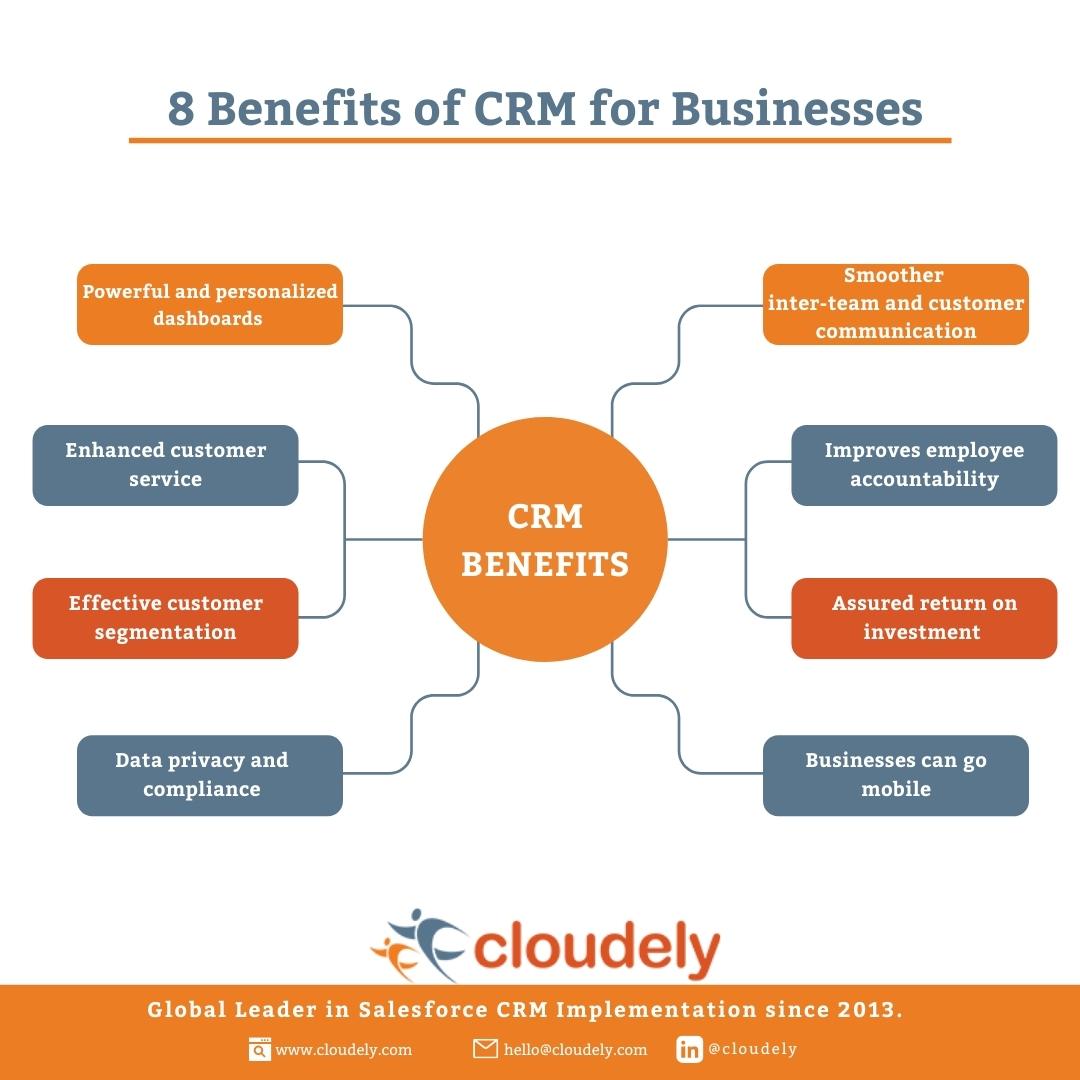 #1:Powerful and personalized dashboards 
By implementing CRM tools for your business, you can eliminate the long and tedious data handling using excel sheets.
Dashboards of CRM software are powerful and intuitive. They provide a 360-degree view of a customer in a click and empower everyone in the team.
Gaining insights about marketing campaign success by tracking the number of calls made, emails sent, opened emails and follow-ups made, and more are just a click away with the best CRM tools.
#2: Enhanced customer service
Dashboards eliminate the otherwise time and effort reps need to invest in digging up the customer details. When reps have all information handy, they can deliver proactive customer service, thus improving the bottom line of business and customer retention.   
#3: Effective customer segmentation
The success of a marketing campaign relies on the targeted approach of campaigns. Customer segmentation is the key to conducting targeted campaigns.
CRM provides the breakup of customer data which helps marketing teams to analyze and understand the prospect and customer groups distinctly, leading to an increased campaign success rate and sales closures.
#4: Data privacy and compliance
Dealing with customer data means staying responsible and alert about preventing misuse and assuring compliance and data safety. CRM tools ensure data protection and security, thus alleviating compliance and safety concerns.
With the best CRM software in place, unwanted legal hassles and data protection worries will be at bay.
#5: Smoother communication
CRM tools log all communication between team members and customers. CRM software pools and centralizes customer interactions from any platform – email, call, in-person and social media.
This simplifies the process of following up and tracking the funnel stage, thus increasing the success rate of closing the deal. 
#6: Improves employee accountability
More the number of customers and bigger the business size can mean more inflow of customer data.
With CRM tools, it is easy to delegate and allot customer handling responsibility to team members. This smoothens teamwork, improves accountability and goal accomplishment, and lets you offer customer service with minimal confusion and errors.
#7: Return on investment 
CRM tools primarily automate everything that is otherwise manual and elaborate processes. With the help of CRM software:
CRM tools eliminate the pressure of taking meticulous care of subtasks involved in customer management, save time and effort, and reduce the burden on sales and marketing teams.
Cross-selling becomes a cakewalk with CRM tools as they provide a 360-degree view of the customer.
Businesses can realize lead nurturing at reduced costs. Forrester finds that lead nurturing generates 50% more sales-ready leads at a 33% lower cost.
#8: Go mobile
In this virtual and remote working era, your business needs solutions that work even when the employees are on the go.
The best CRM solutions provide an all-in-one platform to handle customer data on mobile. Your team members can review, manage, add, update and do more about customer management, irrespective of work location.
Consult us to reap CRM benefits
At Cloudely, we have been empowering our customers to do more and sell more using leveraging the benefits of CRM. Consult us for a demo and to know more about how your business can benefit from CRM. Email us at hello@cloudely.com. Stay connected with us on LinkedIn.