Digital transformation is a hard row to hoe. Studies reveal that the instances of digital transformation business failures are many. The process, by its definition, demands a careful mix of people, data, strategy, adaptability – all well pulled by visionary leadership. 
Mr. Suren Reddy, Co-Founder & Principal opines companies face many barriers in their digital transformation journey. After all the efforts it demands, digital transformation enables businesses to enjoy higher customer retention, brand value, and revenue, he assures. 
Since its inception in 2013, Cloudely Inc. has aligned with many businesses as a digital transformation partner. Suren strongly believes that – in this fulfilling journey where his organization witnessed many global challenges, including the recent pandemic, its readiness to adapt digitally was his company's strength.  
On the event of Cloudely's 9th anniversary, Suren thanks its partners, customers and clients for their trust in the brand.
In this interview with Suren, he reveals how Cloudely's offerings help businesses level up their game, and shares his insights about how organizations backed with technology can get ahead in this digital transformation era.
Q: What are the challenges in digital transformation a business faces you observed in your journey?
Mr. Suren: The way businesses perform changed rapidly owing to digital transformation. While the organizations that adapted to the change sustained in the market, others had to face the consequences. 
Since our inception to evolving as a trusted partner for global companies in technology, staffing, training and compliance, we observed that businesses mainly face challenges in creating a talent strategy, upskil their talent, and channelize a way to capture financial benefits in pace with the changing trends. 
Additionally, weak IT–business partnerships and the inability to measure the business value with technology can be reasons for failing in their digital transformation journey.
Q: What is the role of technology in aiding the digital transformation of a company?
Mr. Suren: Technology is a strong driver of digital transformation. Businesses have to reboot their technology implementations once in a while to ensure their processes, employees, and strategies are agile with the rapid changes. 
Plus, this is the outcome of many studies too. For instance, McKinsey's Global Survey on Digital Transformation Fallout finds that 99 percent of organizations in the survey agreed to have pursued large-scale technology transformation within the organization to stay in the game.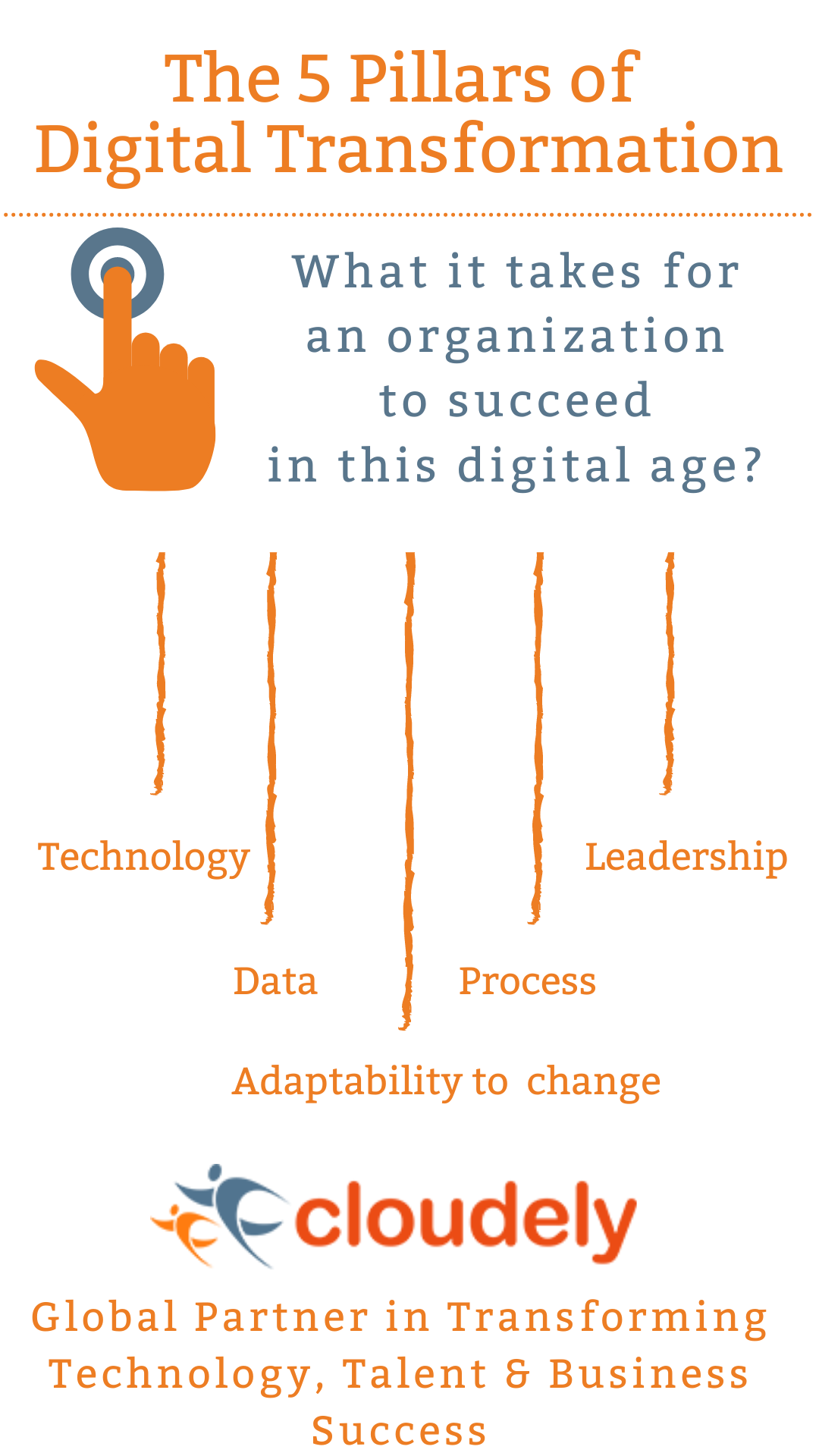 Q: Your organization Cloudely has been delivering Quote to Cash solutions to global businesses. What role do you feel that sales and billing play in business growth and digital transformation?
Mr. Suren: Converting a prospect into a revenue-generating customer is a challenge of its own. 
Many criteria come into the picture, amongst which the streamlining of the whole sales process, including invoice generation and billing, have its role to play. We have heard customers saying that they lost prospects due to the silos in their sales process. 
A quote-to-cash(QTC) solution typically covers end-to-end sales processes and helps minimize any errors otherwise prone due to manual intervention. 
Besides, a QTC solution plays an indispensable role in turning a prospect into a revenue-generating customer and ensuring better customer satisfaction.
Q: What are your signature products that enable the digital transformation of businesses amidst these digitally disrupting times?
Mr. Suren: Cloudely provides an umbrella of services for our customers. Our journey started with Quote to Cash solutions in 2013. We wanted to disrupt the way customers leverage and benefit from quote to cash. We have achieved many successful QTC implementations in this journey. 
Cloudely also specializes in Contract Lifecycle Management, Training, Compliance, and Legal Solutions, along with technology solutions. 
Currently, we are a chosen partner for Salesforce technology – right from implementations to app design. We are also pacing ahead in expanding our technical support in other streams too. Project management, business analysis, product management, to name a few, are our other service areas. 
Q: Employees are the backbone of any organization. How much is their role in the digital transformation of a business? What are the challenges businesses face in fulfilling their workforce needs?
Mr. Suren: I completely align with your statement that employees are the backbone of any organization. 
Cloudely cares and nurtures a working environment where employees feel heard and respected. Any business that is eyeing digital transformation should ensure that its employees are skilled and trained as per the current trends. 
Besides, while hiring new employees, it is vital to assess them holistically if they attune to the organizational culture, adapt, and deliver even during the testing times like those we faced recently.  
Additionally, there has always been a dearth of talented workforce for businesses. While the primary challenge lies in finding the right candidate at the right time, the costs of the hiring, training and the revenue lost due to the vacancy of the unfilled role add to it. 
Furthermore, candidates today have more options than before. Better pay and a better brand make them drift away, leaving the companies in a lurch. Companies have many such challenges when it comes to hiring.
Q: Post pandemic, companies and candidates are leveraging the gig economy more than before. What's your take on this?
Mr. Suren: Gig economy is here to stay and rise. It is a win-win both for the candidates and companies. 
While companies can get work done at a reduced time and cost, candidates can enjoy better work security and income stream.
At Cloudely, we realize the potential of the Gig economy. GigMinds is our brainchild that brings together companies and candidates that want to make the best of the Gig economy. It is an AI-powered marketplace where businesses can find thousands of talented gig workers and vice-versa. 
Q: Does this mean only gig workers will be in demand henceforth? 
Mr. Suren: Gig workforce will be one of the pillars for organizations focused on cost savings. That said, the demand for a regular workforce is on the rise. 
As we saw discussed just now, there is a dearth of talent. Especially on the technology side, the demand-supply gap is visible. 
For example, one of the surveys done by Salesforce reveals that 75 percent of organizations find it tough to find skilled candidates. It explains why companies should start leveraging staffing and training solutions more than ever.
Q: How equipped is Cloudely in offering staffing and training solutions to technology companies?
Mr. Suren: Our industry experience tells us the need for qualified talent if a company has to pace ahead in digital transformation. It drove us to expand our services range to staffing and training.
Today, we have high-caliber recruitment teams spread across the globe who handpick candidates that meet our client needs.

Cloudely takes care of the entire process – right from interviewing to vetting the candidates. What we deliver to our staffing clients are highly talented plug-and-play tech professionals who can perform from day-1.

Similarly, we take pride in our industry-leading trainers who offer cutting-edge training to our learners of various training and certifications programs in Salesforce.
Q: What suggestion would you give to the candidates looking to succeed professionally in these fast-changing times?
Mr. Suren: Never stop learning. Instead of waiting for a grand opportunity to knock on your door, use the one you have in hand and grow along with it. Stay in touch with market trends to know where you have to upskill. We are committed to creating professionals for tomorrow, today. Our Salesforce training and certification programs come with assured job assistance. Candidates can make the best use of it to stay ahead in their careers.
Q: What would you like to share with emerging businesses that want to establish themselves?
Mr. Suren: An experienced business partner can guide emerging businesses the right way. Their experience will help them overcome hurdles and prepare for the future. 
Cloudely is happy to work with diverse global businesses and solve their challenges. On this note, I invite them to reach us at hello@cloudely.com for any queries related to technology, sales, training, hiring, and revenue growth. Connect with us.
Want to explore more about Cloudely's services?

Salesforce Revenue Cloud. Quote to Cash. Billing.

Cloudely's expertise in these business domains spreads beyond boundaries!

In this podcast interview with Novus CPQ Consulting Inc, Suren Reddy – Co-Founder & Principal, Cloudely, Inc decodes how their umbrella of services maximizes revenue generation and strengthens companies with robust technology.

https://cloudely.com/wp-content/uploads/2021/06/Cloudely-Suren-Reddy-April-2021-4_10_21-3.48-PM.mp3

Don't miss it and share your thoughts through comments.