The pandemic-infused revenue fall-out due to the disruption of sales has hit businesses hard. Unpredictability in consumer needs, stalling of deals, unreliable forecasting data combined with business challenges are pushing companies to revamp their revenue regulation strategy.  
An automated and single point of reference that streamlines end-to-end sales, billing, and renewal is what businesses require right now. It is precisely what Salesforce Revenue Cloud achieves. 
What is Salesforce Revenue Cloud?
Salesforce Revenue Cloud is a suite of solutions that streamlines finance, sales, and operations. It is a part of the Customer 360-degree platform and empowers both sales teams and customers. 
The capabilities of Revenue Cloud include: 
CPQ and Billing

B2B Commerce

Partner Relationship Management Program (PRM)
Driven by automation and AI-powered insights, Revenue Cloud services assists businesses to grow the revenue and revamp the lead-to-revenue architecture. 
It lets gain a hold on revenue growth across multiple channels simultaneously and renders a smooth customer journey. 
What are the benefits of Salesforce Revenue Cloud to businesses?
According to Salesforce, Revenue Cloud services help businesses accelerate growth, fills the gaps of lost revenue. It is capable of doubling down on the well-performing areas of business, irrespective of the complexity of deals, business model, or revenue processes. 
Improve business agility and revenue efficiency
Answering its core purpose, Salesforce Revenue Cloud services speeds up the buying process. One of the main benefits of Salesforce Revenue Cloud is the agility it imparts to businesses. 
Being a 3-in-1 tool that solves the billing, eCommerce, and partner relationship challenges, Revenue Cloud is a chosen suite for businesses to accelerate revenue generation.  
In addition, Salesforce Revenue Cloud CPQ: 
Eliminates the inter-team silos by automating manual approvals, data reconciliation, and order transcription.
Provides real-time guidance about customer targeting, discounting, and KPI monitoring and smoothens decision-making for reps.
Removes errors in invoices, sales orders, and change management that would otherwise cause revenue loss.
Thanks to the Customer Asset Lifecycle Management dashboard, it provides clear insights into orders and customer transactions, allowing strategic decision-making.
Explore new revenue streams
The creation of new revenue streams is another significant one from among the benefits of Salesforce Revenue Cloud. Together with the technology of Vlocity, Revenue Cloud makes it seamless for the operations team to create new revenue generation streams. 
Subscription-based launches and consumption-based pricing can turn into a cakewalk for businesses.
Crafting industry-specific solutions for managing ad inventory and content syndications are feasible with Revenue Cloud.
Reps can rapidly upsell products and generate revenue from onsite services owing to the new Multi-Cloud Billing feature.
And what else? Businesses can realize the launch of subscription-based offerings in just eight weeks instead of months. 
Revamp customer experience
Salesforce Revenue Cloud CPQ provides the customers with a comprehensive view of the products and services. They can fill the cart with products of their choice and seek a discount or question directly with the rep.  
Since the reps can view the entire product history, they can complete the transaction as per the customers' preferences without any delay.  
The latest CPQ-B2B Commerce connector allows businesses to build digital storefronts with carts powered with an unbeatable self-service experience.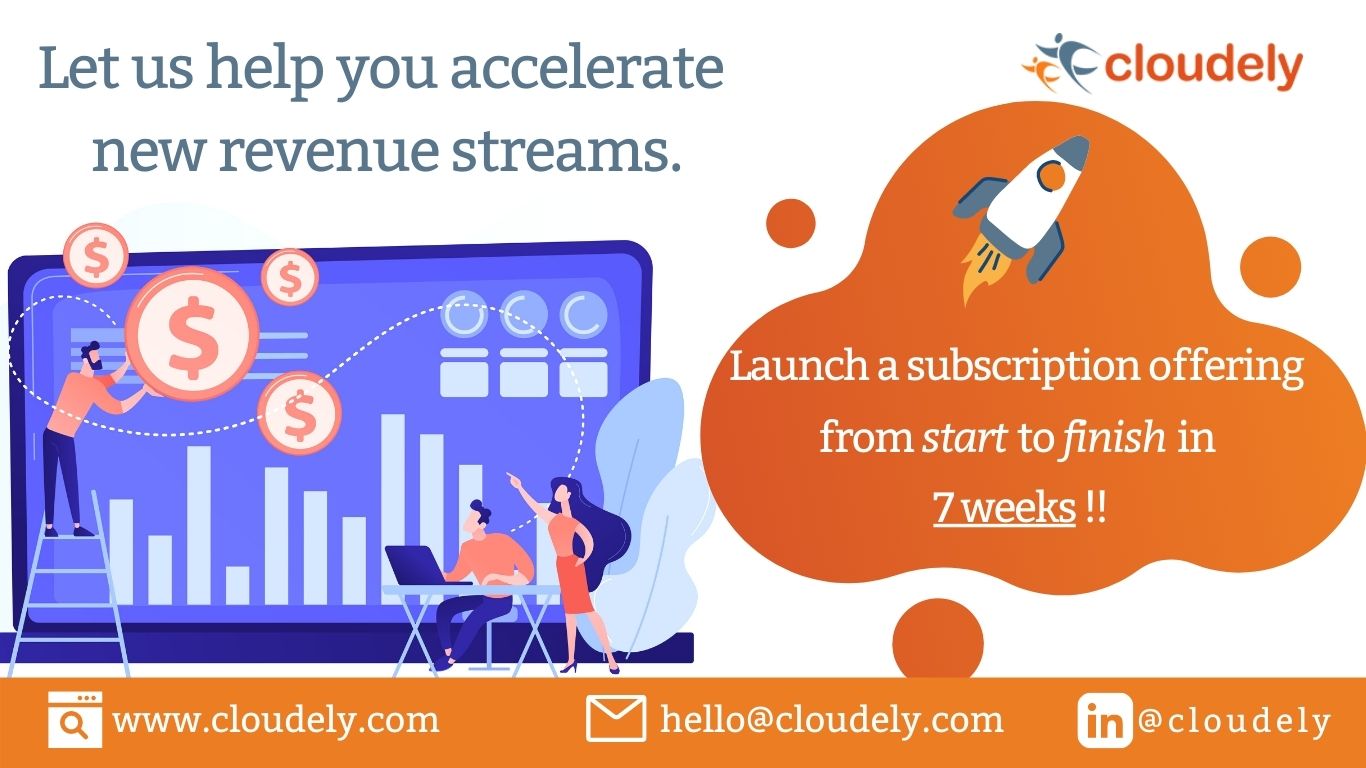 Additional Benefits of Salesforce Revenue Cloud CPQ include: 
Seamless transaction validation with identification of market channels, profit saving, and security verification. 
Unifies the price books catalogues and optimizes the sales process.
Result prediction with enhanced data visibility and 360-degree client analysis.
Drives billing and speeds up revenue recognition. 
A case study by Salesforce finds that Salesforce Revenue Cloud services are capable of:
Attaining 80% reduction in the quote creation time.
Simplify product catalogue from several hundred to a couple of tens.
Conclusion
Salesforce Revenue Cloud CPQ lets businesses efficiently close new deals, expand existing accounts and rapidly launch new products. This single source of truth imparts strategic advantage to enterprises and helps navigate the ever-changing market faster than ever. 
To experience how your business can benefit from Salesforce Revenue Cloud CPQ, get in touch with us today.  

Reach us at hello@cloudely.com or book an appointment here. To stay updated, follow us on LinkedIn.