The Salesforce Partner Program aims to create a broad business support network that provides Salesforce implementation, customization, and integration services. Salesforce partner companies work with Salesforce to offer clients cutting-edge solutions and support them in utilizing Salesforce technologies to the fullest.
In this article, you will read about everything concerning the Salesforce Partner Program, including its advantages, partner categories, and requirements.
The Salesforce Partner Program: An Introduction
The Salesforce Partner Program is aimed to build an ecosystem of reputable and licensed independent software vendors (ISVs), system integrators, designers, and consulting firms collaborating closely with Salesforce to provide cutting-edge solutions.
Salesforce partners offer consulting and integration services to drive business success using Salesforce technologies. They assist businesses in streamlining operations, improving customer experiences, and achieving their digital transformation goals.
Salesforce Partner Types
Based on the type of services and expertise they hold, Salesforce partners are of various types:
Consulting Partners
Salesforce consulting partners offer implementation and advice services to businesses as they embark on the Salesforce journey. They support the creation of strategies and the customization, configuration, and training.
App Exchange Partners
These companies create and market Salesforce-based apps tailored to business requirements, offering smooth connectivity to Salesforce platform.
ISV Partners
Independent Software Vendor (ISV) companies create and market for-profit software applications built on the Salesforce platform. They use the AppExchange and Salesforce App Cloud to sell and offer solutions.
System Integrator Partners (SI)
System integrator partners specialize in integrating Salesforce into other business platforms. They assist companies in integrating their technology environment, ensuring smooth data transfer and platform-to-platform process automation.
What are the Tiers of the Salesforce Partner Program?
According to a partner's level of commitment and experience, the Salesforce Partner Program runs on a tiered framework, providing various perks and resources. Principal partner tiers include:
Registered Partner
To get launched on their Salesforce journey, partners have access to Salesforce tools, training, & essential support through this entry-level tier.
Silver Partner
As partners advance, they can obtain Silver status by fulfilling specific criteria, like finishing Salesforce certifications and exhibiting successful project implementations. Additional benefits accrue to Silver Partners, such as improved training and co-marketing
Gold Partner
Gold Partners have shown to be more knowledgeable and dedicated to Salesforce. They are eligible for more programs, incentives, better support, and first dibs on Salesforce resources.
Platinum Partner
At the top echelon, Platinum Partners are business titans exceptional at delivering Salesforce solutions. They get the most thorough assistance possible, which includes executive sponsorship, cooperative company strategy, and restricted access to Salesforce programs and events.
How can Salesforce partner help your business?
Here is an illustration of how a Salesforce partner can expand your options in the business world:
A multinational retail manufacturing client sought design-first digital shops replicating the purchasing process in its physical stores. They developed a scalable platform by fusing various technologies to provide customers with a seamless purchasing experience, assisted by global Salesforce consultancy partners and AppExchange apps.
They also linked the physical and virtual experiences with live chat and video. Additionally, they provided clients with enjoyable shopping experiences by offering them product customization journeys and comprehensive product galleries.
The outcome? Operational efficiencies that resulted in a rise in order values or customer support chats, which provided a quick return.
Incredibly successful client outcomes like that are made possible by the Salesforce partner ecosystem, which spreads the power of Salesforce to businesses of all sizes and across sectors.
As Salesforce expands, so do partners. IDC estimates that by 2026, the ecosystem of companies supporting Salesforce clients' implementations will be over six times as large as Salesforce itself.
Salesforce partner program is dedicated to giving growing partner ecosystem the resources they require to be successful in the employment opportunities of the future.
Salesforce partners are industry experts in Salesforce implementation and AppExchange app design. Instead of doing it alone, consumers can instantly benefit from this unrivalled ecosystem.
What are the Requirements for the Salesforce Partner Program?
Companies that intend to grow into trusted Salesforce partners must pass various tests and receive certifications to become Salesforce partners. Some of the specifications include the following:
Proven Salesforce competence and successful project implementations track record.
Salesforce credentials for employees, demonstrating their expertise with various Salesforce solutions and products.
Customer success tales and testimonials to vouch for the partner's skills.
Adherence to Salesforce's moral and expert standards.
What is Salesforce Partner Program Assistance and Facilitation?
To help partners succeed in the ecosystem, Salesforce offers them a wealth of support and enablement services.
Partner Community
It is a discussion forum where partners may interact with one another and Salesforce specialists while accessing training materials, documentation, and best practices.
Trailhead
To improve partners' abilities and expertise, Salesforce's e-learning system offers a variety of self-paced instruction modules and certifications.
Sales and Marketing Enablement
To help partners effectively advertise their services and solutions, Salesforce provides co-marketing opportunities, shared demand generation initiatives, and access to marketing and sales resources.
Technical Support
Affiliates can use Salesforce's technical support resources to obtain help with implementation difficulties, troubleshooting, and client problems.
Do Salesforce consulting partners have access to any additional tools or resources?
To better serve their clients and improve their practices, Salesforce offers its consulting partners the resources, training, and tools they require to become experts in specific company functions, market areas, and sectors.
Following are a few of the advantages provided by the consultant partner program, broken down by category:
Create and expand
Access to message boards where you may interact with people from all over the world and share experiences.
The capabilities of this product are being built and tested by Marketing Cloud trial companies.
Consulting Partner Insights newsletter.
Enterprise Edition Licenses for Lighting CRM (Sales & Service Cloud) and Trailhead.
Sell and promote
Unrestricted technical support to Premium partners. 
Vouchers for certifications to pay for the official Salesforce credentials given on Trailhead certification exams.
The status of the member may also affect these benefits.
What does being a Salesforce Consulting Partner entail?
The status of being a Salesforce Consulting Partner indicates that the company offers reliable, dedicated guidance for its customers in their Salesforce journey. When businesses collaborate with a Salesforce consulting partner, they can accomplish their business goals with confidence.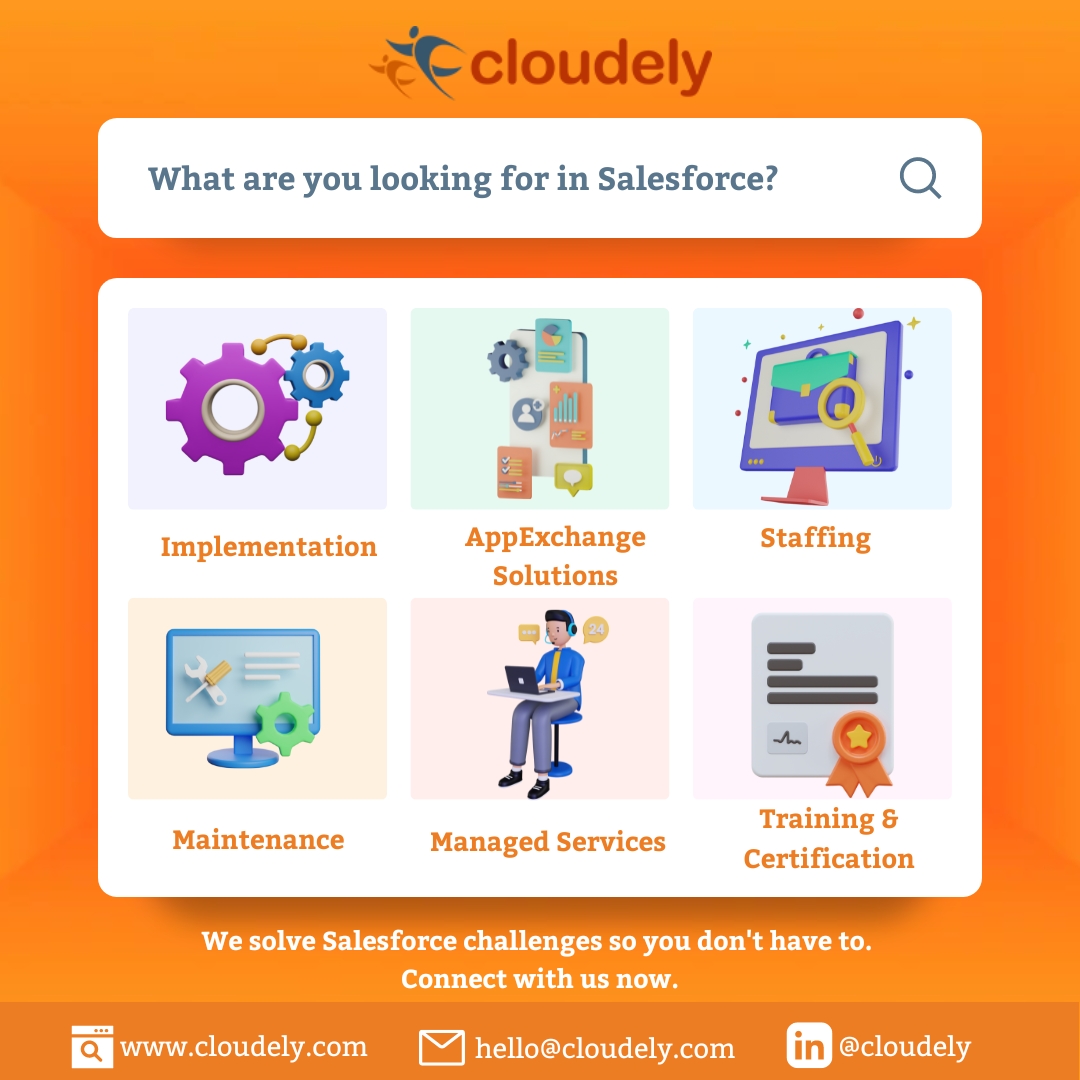 Conclusion
The Salesforce Partner Program is a dynamic community of partners that works with Salesforce to provide top-notch business solutions. These partners contribute their knowledge to help businesses maximize the economic impact of the Salesforce platform and advance their digital transformation initiatives, whether they do so as consultant partners, AppExchange partners, independent software vendors, or system integrators.
Cloudely Inc is a go-to Salesforce partner for global enterprises. We specialize in App Exchange Solutions, Salesforce Consulting, Implementation, Managed Services and Training. Email us at hello@cloudely.com to achieve more returns on your Salesforce investment.