At Cloudely, to deliver Salesforce solutions to our customers to help critical business functions such as Sales Forecasting, Lead and Sales Management, and Process Enhancement with a focus on Customer-Centric Approach along with time and cost-saving is our North Star.
We underline our presence in understanding the pain points of our customers and delivering the right solutions in a timely and consistent manner in today's dynamic market.
About Cloudely
Cloudely began its journey in 2013 with a determination to disrupt the way enterprises and businesses manage cloud applications. Since then, its clientele has expanded to global businesses across diverse horizontals.
From delivering solutions pertaining to Contract Management, Quote to Cash, Salesforce Implementations,  Staff Augmentation, and Training, Cloudely is committed to surpass customer expectations and making ideas happen by leveraging human intellect and technology.
Cloudely is location agnostic and has a global presence with its headquarters in California and Center of Excellence in Hyderabad, India.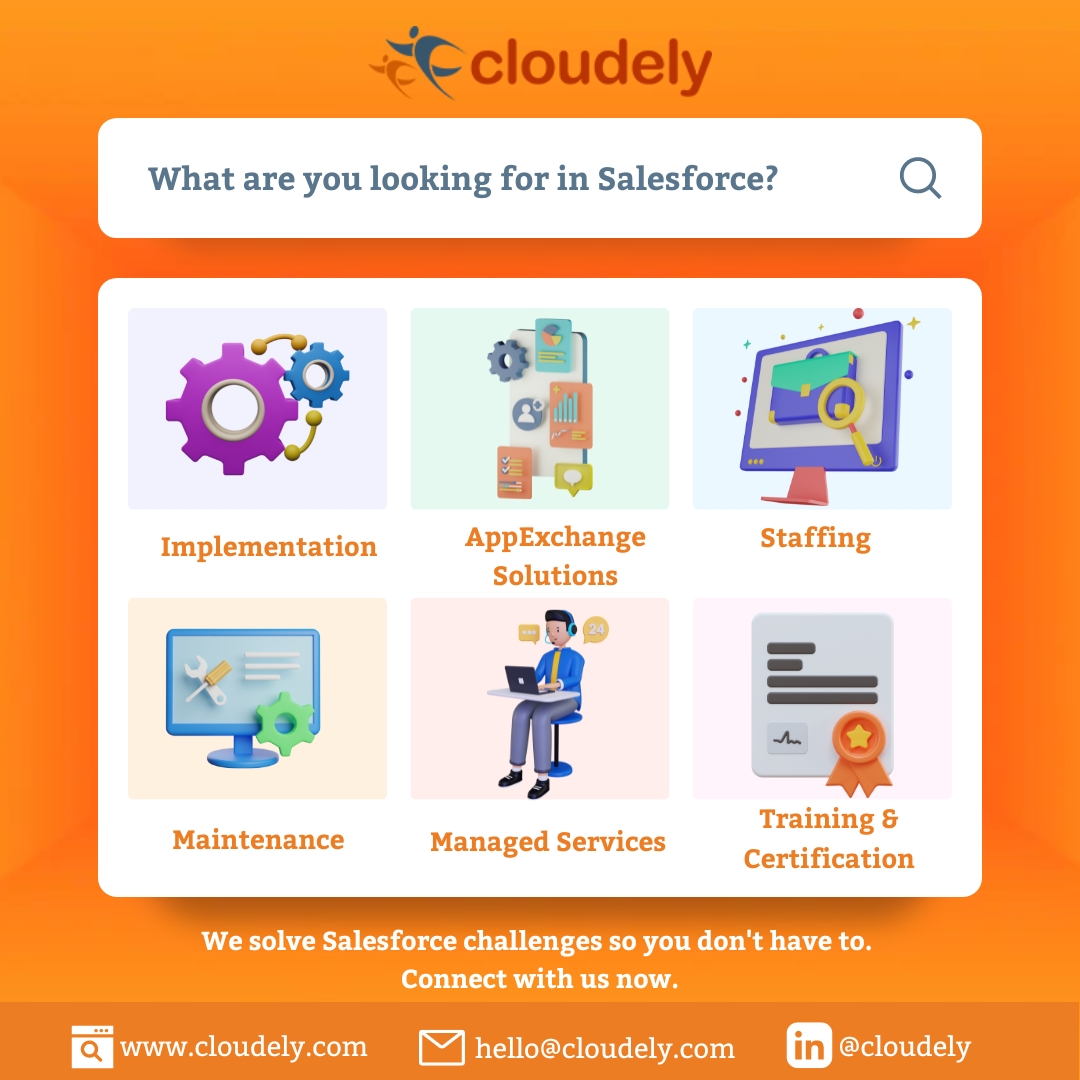 About Formstack
Formstack is a productivity platform dedicated to boosting the productivity of workplaces. Its solutions span end-to-end form and document management, including form creation, customization, and eSignature collection.
Since its inception in 2006, Formstack has helped organizations worldwide to digitize information, automate workflows and transform processes. To learn more about Formstack, please visit their website.
Advantage Cloudely-Formstack Solutions
Cloudely's Salesforce Implementation services to Formstack drives form integration with the benefit of Salesforce – the world's leading CRM. This partnership empowers a 360-degree customer view and realizes the zero-error approach in customer management.
Use Cases
1. Student Administration Process
Use Case Outline: Running admission campaigns, collecting interested student details, creating forms, and completing the admission process.
Pain point: Painstaking data collection through routine techniques such as excel sheets and analysis through tedious methods.
Resolution offered by Formstack: Build robust and dynamic Salesforce-powered web pages powered that can translate the object fields of the objects onto a form just with a drag of a button.
Value addition by Cloudely: Enhance the existing Field Rules, Custom alerts (Emails), Documents, Payment integration, Prefill forms, and Form Submission status.
2: Citizen Portal
Use Case Outline: Enable citizens to register and track their complaints to the local civic authorities online. Civic authorities can access, address and resolve these complaints through the web pages.
Pain points: Once citizens register their complaints, the process of walking through it across various departments is tedious. Additionally, the time lag in finding the authority from the concerned department is high.
Resolution offered by Formstack: Built a Salesforce-driven powerful complaint registration form. Create the data model and objects in Salesforce and translated them into a form with the help of Formstack. This enables both the citizens and authorities to save a lot of time and effort.
Value addition by Cloudely: Enhance the Field Rules, Custom alerts (Emails), Documents, Prefill forms, and Form Submission status.
Cloudely is excited to partner with Formstack and looks ahead to drive its solutions with its Salesforce capabilities. This is the first step for many possibilities that would bolster our joint customers' trust in our capabilities more than ever.

For Cloudely customers keen on an in-depth demo of the Salesforce Implementation solution, please contact our team at hello@cloudely.com for an introduction.
Because Partnerships Matter
Cloudely extends a warm welcome for partnerships to revolutionizecloud applications and digital transformation.
Reach us at hello@cloudely.com to partner with us and make your business ideas happen. Say hello to us on LinkedIn.