Salesforce is one of the most globally in-demand skills. The demand for Salesforce professionals is growing faster than the rate candidates are upskilling. With our decade of experience in successful Salesforce CPQ implementations, at Cloudely, we are committed to training and equipping candidates with our online Salesforce CPQ and billing training and certification program.
What is Salesforce CPQ?
Salesforce CPQ is a sales software and implementation tool that allows the sales team to achieve more. It enables businesses to create accurate, customized quotes with optimal pricing and discounts. It is a cloud-based solution and thus seamlessly connects the sales team with the customers.
Companies can close bigger deals, save time and effort, enjoy more conversion and revenue by equipping their sales team with Salesforce CPQ.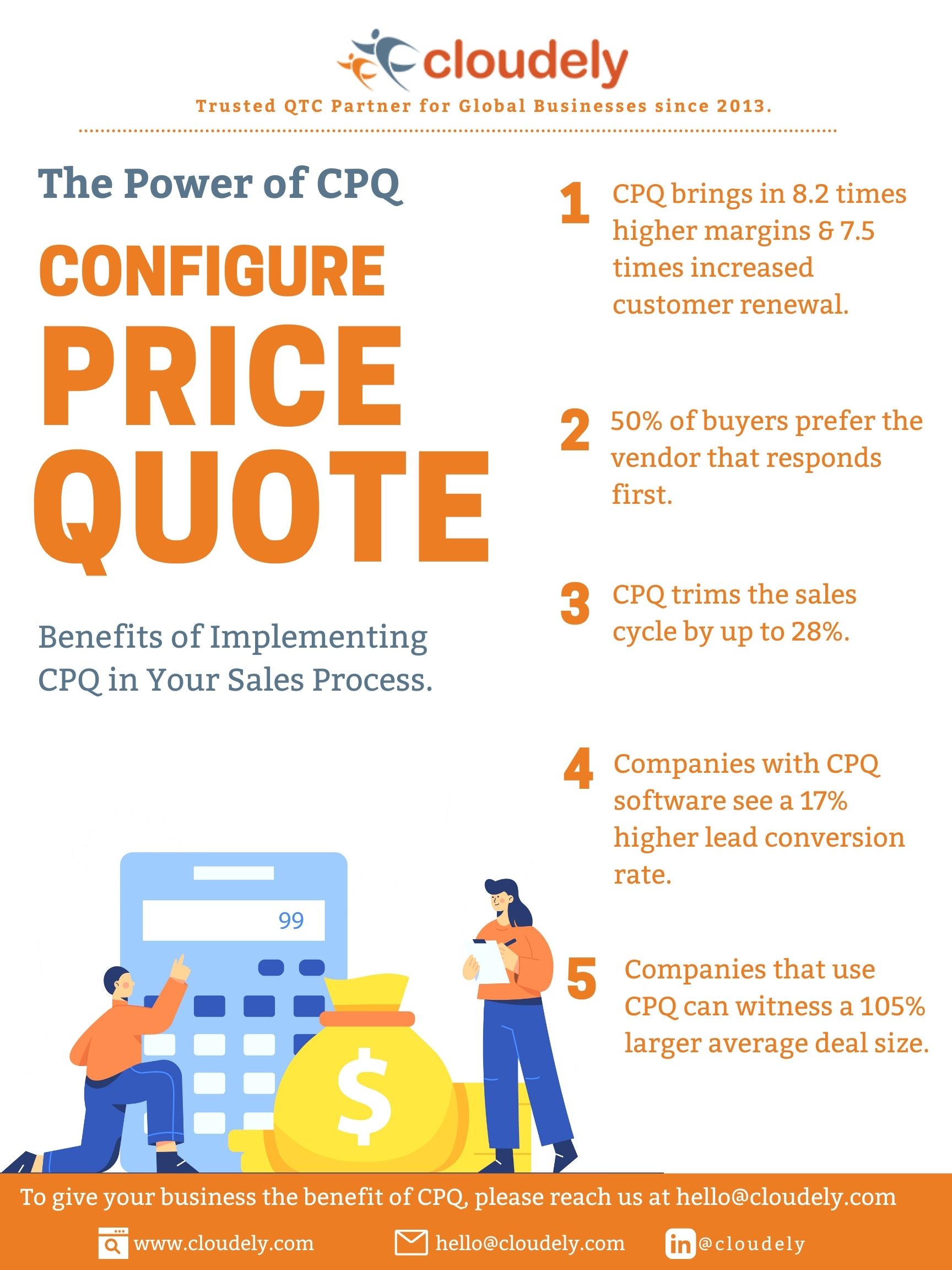 Don't Miss: Cloudely SFDC Training Program
Careers in Salesforce CPQ
Salesforce CPQ is one such field that offers a promising future to job aspirants. CPQ being an implementation tool, companies are in constant search for trained professionals to leverage the technology. 
As of January 2022, in India alone, approximately 20k Salesforce CPQ jobs are listed on Naukri.com. The pay packages in CPQ are lucrative. Talent.com survey finds that the Salesforce CPQ Consultant average annual salary in USA is around $146,250 in 2022. 
What is our Salesforce CPQ online training program? 
Our Salesforce CPQ online training adheres to the latest industry practices. The entire training program comprises 24 live online sessions exclusively for CPQ and Billing. It helps you to learn Salesforce CPQ step by step under expert guidance.
We also offer on-demand Salesforce Revenue Cloud training. Check how Salesforce Revenue Cloud benefits businesses.
Who is eligible for CPQ and Billing Training Program? 
Our Salesforce CPQ training online is for candidates with:
Salesforce Admin Certification (or)

Prior working experience in Salesforce at least for 6 months.
How to enroll in our Salesforce CPQ online training program? 
Cloudely offers Salesforce Revenue Cloud, CPQ, and Billing training in several batches.
To receive updates about our upcoming training programs, please follow us on LinkedIn or email us at salesforce@cloudely.com. 
Our Salesforce CPQ and Billing training course trains in-depth about the following concepts:
Salesforce CPQ Training Syllabus
Basics of Cloud computing & Salesforce Fundamentals​
CPQ Introduction and Architecture​
CPQ Package Installation

 Creating a Quote​
Products & Bundles​
Product Features and Product Options​
Product Option Constraints​
Configuration Attributes​
Product Rules – Validation, Alert​
Product Rules – Selection, Filter​
Quote Line Editor Overview​
Custom Actions & Guided Selling​
Price Rules & Lookup Queries​
Interim Refresher Session​
Pricing Methods – List, Cost​
Pricing Methods – Block, POT​
Discount Schedule​
Multi-Dimensional Quoting​
CPQ Calculation Sequence​
Contracting​
Amendments & Renewals​
Quote Templates​
Approvals​
CPQ Best Practices​
Final Refresher Session​
Billing Training Syllabus
Billing Overview, Orders
Invoice & Order relationships
Invoice Generation
Usage
Invoice Line pricing
Payments
Debit notes, Credit notes & Refunds
Legal Entity & Taxation
Finance Books
Revenue Recognition
General Ledger
Final Refresher
What distinguishes our Salesforce CPQ, Billing, and Revenue Cloud Training?
Cloudely is a Salesforce partner with intensive industry experience and a track record of successful CPQ implementations since 2013. While these are the pillars of the training program, our training approach and expert guidance add value to the training program. 
The course syllabus covers concepts comprehensively and trains candidates to gain mastery in CPQ and Billing. The practical sessions under the guidance of expert trainers will prepare candidates to handle the real-time business challenges. 
Also Read: Salesforce Career Guide
Enroll now
Enroll in our CPQ, Billing, and Revenue Cloud training to take your career to the next level. Get trained by industry experts and gain globally renowned certification.   
To enroll in the upcoming CPQ training, please click here.
To clarify your queries about Salesforce career and register in our upcoming training programs, please email us at salesforce@cloudely.com.

We also offer Salesforce corporate training that makes your employees industry-ready. For related queries, please reach us at hello@cloudely.com.
Subscribe to our blog to read the latest Salesforce articles, career guidance, and industry trends. To know us better, connect with us on Facebook, LinkedIn, Twitter, Instagram, Pinterest.