In fact, Salesforce has been steadily growing since 2005, and that's only one of the reasons recent graduates can consider Salesforce for a stable career. The technology provides numerous opportunities for career growth where once can make a direct impact on customers.
This article will guide you through what is Salesforce and why you should consider a career in Salesforce.
What is Salesforce?
Thousands of companies use the Salesforce CRM platform to communicate and connect with their customers. Salesforce conducts all of its operations using cloud technology. It is an excellent platform to keep track of multiple projects across domains, which is why many companies, including Amazon, use it as a single system for all their needs.
Salesforce also allows businesses to track all the data about their customers to ensure they serve them well.
Why should one consider a career in Salesforce?
Direct impact: A career in Salesforce will involve either interacting with the customers or working on tasks that have a direct impact on them. Students with a zeal to create a direct impact on the customer can consider a career in Salesforce. Salesforce revolves around making it easy for businesses to connect and attain a 360-view of their customer journey.
Growth: According to IDC, the Salesforce Economy will provide over 548,400 new direct jobs in India from 2019 through 2024. Students considering a career in Salesforce can look forward to growing within their field to higher levels of responsibility in their career path.
Scope to be a part of innovation: The International Data Corporation has ranked Salesforce the number one solution for customers for the past nine years. Salesforce uses the best technology for its customers, and being a part of its ecosystem will ensure growth and a satisfying career for the employee as well.
Suggested Reading: A beginner's guide for a career in Project Management
How to make a career in Salesforce?
Salesforce is a company that puts customers first. If you are considering a career in Salesforce, then you will benefit from the knowledge about Salesforce's values and goals.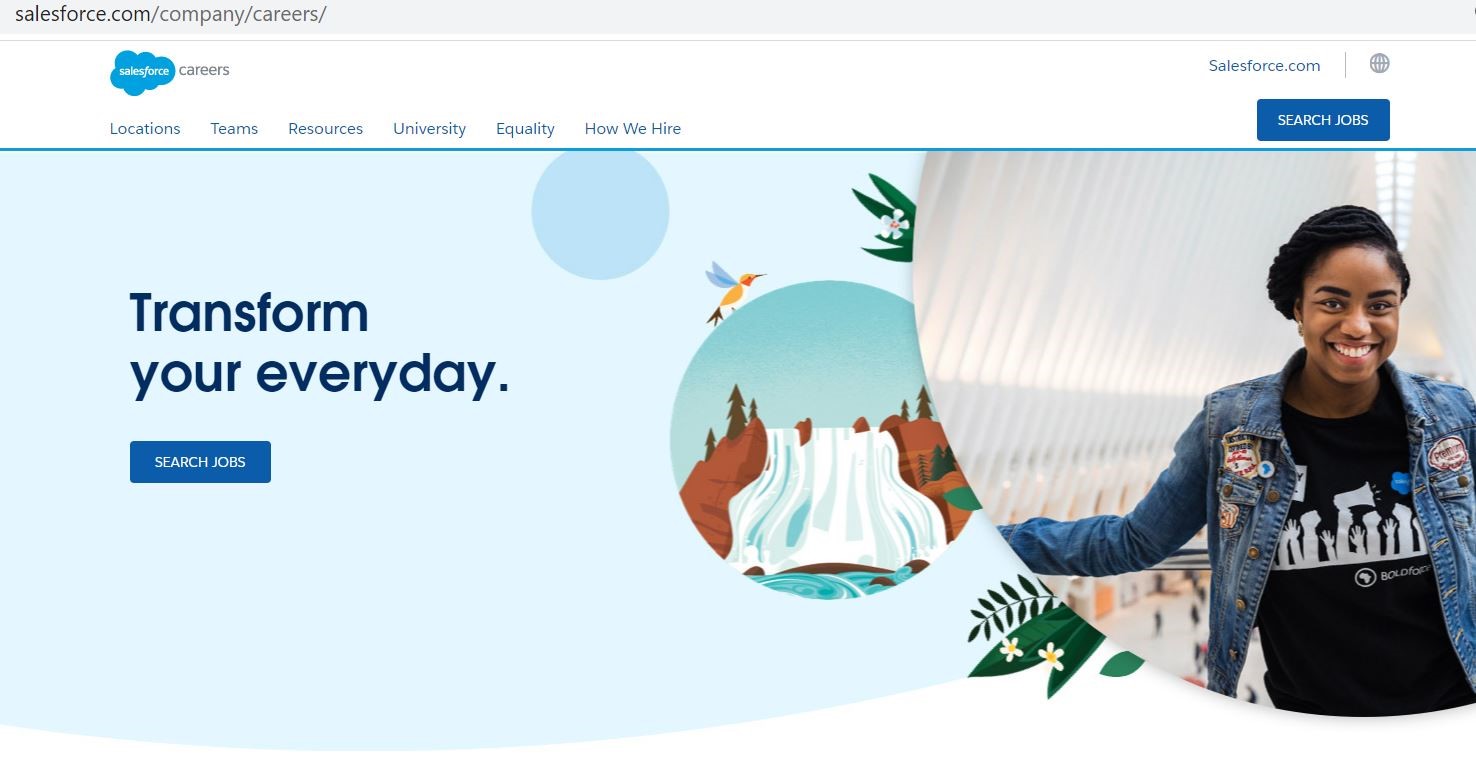 Search for suitable roles
Among the thousands of jobs that Salesforce posts regularly, there is certainly something for everyone.
Salesforce is also a place where you can learn and grow a lot, so that has to be on your agenda as well. When you are looking for jobs at Salesforce, think about your career for the next 5-6 years and the impact you wish to create.
Here are some of the in-demand roles related to Salesforce that will help you to get started with creating a career in Salesforce.
Administrator
The main job is to help customers and other users make the best use of Salesforce technology. This position includes identifying the gaps in technology. The administrators communicate them to the business team and training other users to navigate the technology. Administrators earn a salary of approximately $91,000 per year at Salesforce.
Required skills
• Communication skills should be at the forefront for administrators since there are regular interactions with customers, and administrators need to communicate well and listen attentively for possible problems.
• Salesforce has multiple projects at all times; hence, knowledge and skills about project management are also essential.
Business Analyst
Business analysts are people who live and breathe data. They are crucial to Salesforce because they analyze customer data and marketing trends that Salesforce requires to perform well.
To this end, the ability to identify trends in data, derive insights, and the skill to offer insightful recommendations form the core requirements for this role. Business analysts earn approximately $84,000 a year.
Required skills
• Detail-oriented and keen to identify trends in the large volumes of data at Salesforce.
• Project management and analyst skills are crucial.
Architect
Customers can only use the platform well if it is designed well and is easy to understand. Salesforce architects spend time designing the optimal design to serve the customers. They are thinkers and analyzers who conceive ahead about issues and solve them before they become major problems. Salesforce architects make approximately $104,000 a year.
Required skills
• Familiarity with system architecture and API integration since they form the core of the job description.
• Project management skills are a plus; likewise, an understanding of the business processes would be a great addition.
Marketing
Marketing is a great way to tell the story of a company and why it is valuable to a customer. This concept holds true and becomes more relevant when it is backed by data. Since Salesforce primarily serves its customers 24×7, marketing representatives at Salesforce are constantly trying to expand their customer base and provide data-backed insights.
Required skills
• Salesforce is a product at the end of the day. Thus, knowledge about product marketing in-person and over e-mail is indispensable.
• Expert use of social media and mailing software is also demanded since you can reach customers effectively.
Sales representative
The idea about the job is that selling the software to a customer is only the first step. The major section of the work is to continue that existing relationship for many years.
This is where sales representatives come in. They keep in constant touch with the company's clients and make sure that their requirements are met. People in sales are crucial to the functioning of the company as a whole.
Required skills
• Opportunity management
• The know-how to make use of existing opportunities.
• Top-notch communication skills to interact well with customers and other clients.
Salesforce certifications
Salesforce is an incredible platform. But recent research reveals that issues arise as much as 60% of the time while implementing Salesforce systems. The issues increase the time and effort to repair the damage and certifications help people become skilled at solving such problems. Students considering a career in Salesforce must take a look at the available certifications that will add to their portfolio.
Enrol in Cloudely Salesforce CPQ and Billing Training
Benefits of Salesforce certifications
A great addition to your resume: Salesforce is at the top among the companies offering solutions based on the cloud. A Salesforce certification not only adds to your portfolio but also makes you more skilled and increases your career growth.
Reputation: A person certified by Salesforce can carry out deployments of a complex system without any error, making them a valuable addition to the market.
Easy navigation: These certifications can be done at your own speed, ensuring that you are on track to earn the certifications without worrying about other commitments.
Enrol in Cloudely SFDC Training
Continue to grow
One advantage of working at Salesforce is the multiple opportunities to grow within the company. Students looking for a career in Salesforce can take the time to think about what kind of career they want and how they can do their best and grow during their career in Salesforce.
Salesforce is an exciting company to be a part of, where students can craft their careers meaningfully with appropriate planning and hard work.
Who are We?
Cloudely is the leading independent provider of enterprise cloud services for Salesforce Implementations and Training. Explore our Salesforce Training Programs to kickstart your career.