Given its essentiality, healthcare is one of the industries everyone can connect with. The pandemic era ushered in a decade of the healthcare technology revolution in less than a year. On the other side of these innovations are the daunting healthcare challenges of the interlinked patient data matrix, privacy regulations, rising patient count, staffing crunch, integration challenges with existing hospital systems, policy inconsistencies, and funding concerns.
Amidst such challenges lies the necessity to establish a connected relationship between customers and healthcare organizations. To accomplish this, healthcare providers require more capable, effective, and collaborative customer relationship management tools that are more potent than traditional CRM software. Salesforce Health Cloud empowers healthcare organizations to provide connected experiences through its all-encompassing customer relationship management capabilities.
As we move ahead in this article, let us take a deep dive into:
Why traditional CRMs are not the best fit for the modern complex healthcare industry?
How Salesforce CRM helps healthcare providers deliver empowered and robust healthcare services?
Growth of the Healthcare Industry
The growth in the healthcare industry has always been spurred by government initiatives, medical tourism, the demand for quality healthcare, and the need to spread healthcare services to remote areas.
Though the global healthcare market is rising, diverse factors such as region, technology availability, population, existing healthcare infrastructure, and investments determine the region-wise growth of the healthcare industry.
According to a study conducted by Markets and Markets, here are the key observations about the growth of the healthcare industry:
The triggers for healthcare industry growth are government mandates, dedicated healthcare IT solutions, big data, the need to curb the rising healthcare costs, growing mHealth, telehealth, remote patient monitoring, and healthcare information technology.
The global healthcare IT market is projected to reach USD 821.1 billion by 2026, at a CAGR of 20.3% during the forecast period.
Market growth in North America is attributed to the widespread adoption of telehealth and interoperability solutions.
The growth of the healthcare industry in APAC is mainly pandemic-driven, with the rising patient influx and increased adoption of healthcare IT solutions.
Suggested Reading: Salesforce Commerce Cloud – Everything You Ever Wanted to Know
Challenges of the Healthcare Industry
As the world inches closer to the 4th Industrial Revolution, the healthcare industry challenges are getting complicated. The dynamic landscape in the healthcare industry sector driven by pandemic-infused changes and healthcare technology disruptions is intertwined with changes driven by artificial intelligence, automation, and big data introduced.
Healthcare providers now grapple with a whole new range of challenges as below:
Limited funding, diminishing payments, and reimbursements are limiting the scope for innovation and digital transformation.
Talent crunch and employee reskilling: 
Training the existing staff to handle the latest healthcare technology innovations and attracting new talent for innovation and transformation purposes.
Implementing/integrating new technology: 
The tide of healthcare inventions is making it hard for decision-makers to choose the optimal solution that poses minimal implementation and integration challenges with the existing systems.
Invoicing and Payment Processing: 
Timely patient collections are one of the major revenue cycle management of the healthcare industry.
Amidst the patient data influx, healthcare providers lack a 'single source of truth' to optimize the patient experience. For instance, the gaps created when patients switch healthcare brands or insurance providers make it difficult to create a comprehensive view of the patient healthcare journey.
Though medical industry regulations mandate pricing transparency to healthcare organizations, as of August 2022, only 16% of hospitals comply. Regardless, modern tech-savvy patients are inclined towards healthcare brands that offer price transparency.
Attracting and retaining patients is challenging for healthcare organizations as the latter are more empowered with choices and information.
New patient expectations include self-help in the form of chatbots and faster customer service for issues related to appointments, immunization schedules, bill payments, insurance updates, and more. Patients also expect the transparency and choice to opt-in for communication and privacy.
Patients expect new payment models that provide comprehensive views and features such as bundled payments, disbursement to patient-oriented care providers, global payments, and shared savings. However, this may add new challenges to healthcare providers as they have to redefine the performance measurement and ROI metrics.
Challenges for CRM Implementation in Healthcare Industry
The existing healthcare CRM is still in the infancy of providing specialized standard solutions dedicated to the healthcare customer journey. On the other hand, healthcare companies that utilize generalized CRM solutions may miss the rewarding benefits of a connected customer journey.
General-purpose enterprise CRM solutions focus on offering a 360-degree view of the customer, first-party data, and basic use cases such as missed appointments and financial readiness.
Healthcare CRM implementation challenges include:
Choosing suitable CRM that solves the complexity of the healthcare industry.
Lack of CRM knowledge among the department users and the related training costs.
Privacy and compliance issues involved are paramount for the healthcare industry.
Poor visibility into customer touchpoints as no singular department owns the customer data.
Permission from the legal team for the CRM implementation in terms of business perspective.
Considerations for CRM Implementation in Healthcare Industry
Healthcare is a sensitive industry with disparate customer touchpoints and confidential data. To provide a connected customer journey, here are the considerations before implementing CRM for healthcare:
Create a systematic customer data model.
Prepare customer journey and related business use cases.
Focus on governance to prioritize business functions and resource allocation.
Business leaders must acknowledge CRM as an enterprise initiative to drive sponsorship for adoption.
Integrate the digital ecosystem to leverage conversational marketing and direct integrations into your CRM.
Incorporate call-center-enabled digital campaigns to test engagement and conversion based on testing of forms versus phone numbers.
Create personalized health alerts to leverage an existing Martech stack to increase speed to deployment and support overall patient outcomes by closing gaps in care.
Suggested Reading: Why CRM is important for businesses?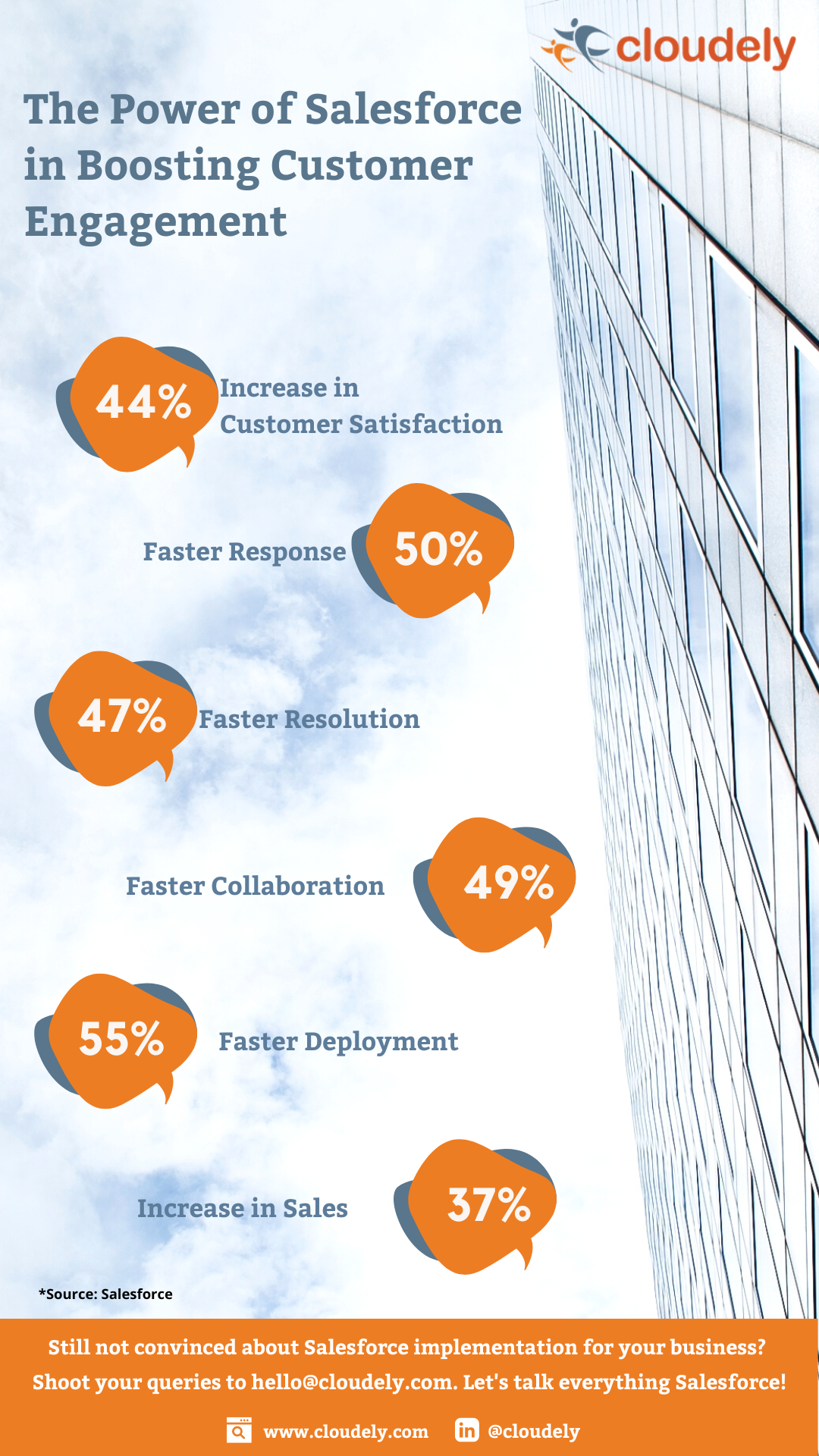 How does Salesforce help create a Connected Customer Journey in Healthcare?
A CRM is a digital gateway that leads to a holistic and integrated experience between web, mobile, marketing automation, and clinical systems. Salesforce Health Cloud helps medical teams to work in tandem with collaborative insights about patient data, enhance patient-provider relationships, and ultimately achieve better health outcomes. Another healthcare CRM solution, the Vaccine Cloud, also proves Salesforce's ability to adapt fast and address different healthcare use cases.
Below we discussed how Salesforce empowers healthcare providers and why Salesforce is the best healthcare CRM.
1.    Eliminate inter-departmental siloes
Hospitals use disparate systems to capture patient information – insurance claims, lab reports, billing details, marketing insights, vaccination records, previous health reports, and more.
Salesforce connects such dispersed data into one place, creating a 'single source of truth' for all departments involved. It will help healthcare providers effectively monitor and control all the information since the data is stored at a centralized repository, not in any local system or server, but on a Cloud that provides data access anytime and anywhere.
The powerful automated features of Salesforce CRM, such as case assignments and case entries help:
Minimize and eliminate human involvement to a greater extent.
Gather the patient medical history in a short time.
Match the patient to the right medical specialists.
Additionally:
Salesforce offers enhanced data security when integrated with other tools.
MuleSoft Accelerator for Healthcare provides easy-to-use healthcare solutions.
By switching to Salesforce as the healthcare CRM, medical care providers can focus more quality time on patient care by making data-driven decisions.
2.    Personalize consumer experiences
Personalizing consumer experiences is a significant differentiator of Salesforce CRM. Choosing Salesforce as the healthcare CRM means delivering a better, personalized patient journey amidst the complexity of the healthcare industry.
Thanks to the rich insights that Salesforce CRM for Healthcare presents, members of every department can make empowered decisions offering a more value-driven experience to the patient.
Salesforce for healthcare provides all records of the patient in one place. Patients can also experience more personalized responses via chatbots, and self-help portals like this healthcare CRM.
In addition, Salesforce enables:
Healthcare providers offer proactive services such as offering dedicated needs to people with special needs.
Offer quick responses and communication through calls, texts, or an online Salesforce Communities portal.
Deepen the relationship with the healthcare brand by offering personalized services and winning consumer loyalty.
3.    Innovation backed by security and compliance
Salesforce solutions are the trailblazers in offering innovative solutions to industry requirements. Healthcare is no exception to this.
By switching to Salesforce as the healthcare CRM, medical care providers can reap the benefits of compliance, innovation, and security.
Salesforce assures:
Healthcare customer management solutions are compliant with HIPAA and HITRUST.
Encryption with Salesforce Shield in conjunction with Health Cloud.
Intuitive dashboard to monitor user interactions and retain an audit trail of field data.
Rich services to consumers to the AppExchange Salesforce native apps to meet various needs such as telehealth, document management, and insurance verification.
4.    Intelligent services with Marketing Cloud
Marketing Cloud takes healthcare consumer data management a step further. It allows healthcare providers to send tailored emails and text messages to remind consumers to stay on track with their treatment and enjoy sustained wellness.
Healthcare providers can prepare secure, HIPAA-compliant documentation from medical reports to patient communications with e-signature tools.
Offer connected services with Salesforce as Healthcare CRM
Here's the best part of choosing Salesforce as a healthcare CRM: it provides healthcare organizations the freedom to customize their application, add new functionalities, and offer intelligent and connected services -all complying with HIPAA or other data protection laws.
Want to learn more about using Salesforce as a healthcare CRM? Send a message to our experts to receive a free demo.