Salesforce is inarguably the leading Cloud computing and Software as a Service (SaaS) platform. Since its inception in 1999, its successful and illustrative journey laid the foundation for a vibrant Salesforce ecosystem that attained unparalleled reputation. As the core of its value system, Salesforce ensured that clients, partners, and developers in its ecosystem reap the likewise success level.
Salesforce Ecosystem Models
Over the last two decades, Salesforce has been the frontrunner to claim the top position of the best CRM platform. Today, Salesforce is more than a tool to manage leads and automate sales processes across the B2B/B2C marketplace of e-commerce. Its makers regularly enrich the platform with periodical updates that let users manage and automate processes seamlessly.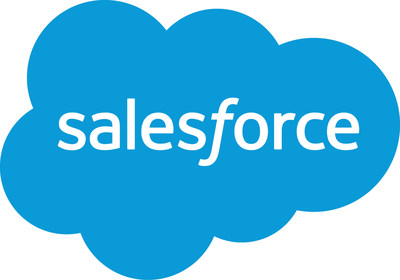 The Salesforce ecosystem comprises – community members, users and consumers, business associate consultants, and technology developers.
Partners
The Salesforce partner ecosystem comprises a rich base of developers and partners, broader than other technology company systems globally. The community of partners catalyzes the interaction and collaboration of partners to drive innovations. 
The Salesforce ecosystem has nurtured several Independent Software Vendors (ISVs) to develop their businesses around Salesforce. It also provides online certifications and free training in addition to crucial resources to ISVs for client interaction.
Developers
Salesforce developers of several Salesforce consultant companies enjoy its product – Customer 360, a platform that offers a cloud-based toolbox to build apps rapidly. The inherent technology helps developers expedite the building of apps by drag/drop pre-made Salesforce Lightning elements.
Developers can leverage Trailhead as a learning platform to hone their Salesforce skills and jumpstart their Salesforce careers.
Users & Engagement
Salesforce ecosystem also comprises 1.8 million direct users. All these customers can effortlessly communicate and collaborate with their peers, clients, and developers. 
Salesforce Idea Exchange, powered by its community, encourages user inputs and ideas and eases member interactions. For instance, they can vote for new product feature enhancement they wish to see. 
Salesforce effortlessly garners a valuable reputation for such efforts to enhance and expand the reach of the ecosystem.
Employment Creation
To date, Trailhead helped source 4.2 million Salesforce jobs available within its ecosystems. According to its updates, the company is aiming to generate another 3 million jobs by 2022. 
The ecosystem of many organizations that embrace Salesforce's users and experts helps them to gain an advantage of the unique positioning of Salesforce. 
If you belong to ecosystems of other organizations, you can still gain knowledge and join the Salesforce team. The vast ecosystem extends and embraces that of other companies. It helps job seekers to get jobs within and outside it. 
The future looks bright for Salesforce ecosystem
According to Jason Bloomberg – "Nobody has ever built an ecosystem bigger or better than Salesforce has." The Salesforce ecosystem thrives on the coexistence of the various organizations using their products and partners. One of the recent examples of its success story, Salesforce stood tall with a commanding $7.72 billion in revenue overtaking the legacy of SAP.
The platform is the underlying infrastructure for a wide variety of third-party apps services. The apps that consultants deploy for their customers and Salesforce. Such customers and companies benefited from the technology are enriching the Salesforce ecosystem.  
Related Read: How to hire Salesforce experts amidst the tech-talent crunch?
Inside the Salesforce ecosystem
Salesforce has pioneered cloud computing capabilities and a potential SaaS space to implement a business model built on an expansive Salesforce ecosystem of customers, experts, developers, and partners. The AppStore Marketplace further reinforces it. Thus, Salesforce emerged as the biggest CRM platform to manage all business leads. 
Over the past two decades, Salesforce has reinforced, expanded, and enriched its ecosystem by incorporating a fresh set of companies, nurturing leadership, and creating business opportunities for ISVs. By leveraging the partner-client-developer relationship, ISVs earn up to four times the revenue of the parent company.
Salesforce's cloud-based platform nurtured a thriving ecosystem of end-users and consultant partners and created an unprecedented impact on companies operating locally. It catapulted the growth, development, innovation, job opportunities for the skills in demand across all industries, both inside and outside it. 
The economy and growth
The economy report of Salesforce indicates that the partner ecosystems have produced 2.8 times the Salesforce revenue. The Salesforce ecosystem growth will surpass its growth rate, diversity, and profits. 
By 2024, the partner ecosystem would garner 3.7 times the Salesforce revenue, a rise of 2.8 times that of the current revenue. 
By 2026, as per IDC's prediction, the estimated global job opportunities will be 1,328,200 in India alone. which includes 569,800 direct jobs and 758,400 indirect jobs by 2026.
Through its vast ecosystem, Salesforce helps:
Spawn new companies and the way they thrive, grow, and mature

Change the way young entities disrupt the legacy of giant organizations

Produce jobs in marketing, operations, finance, Information Technology, and technology consulting services
Salesforce Products and Services
Salesforce products play a crucial role in the value-addition of its ecosystem. 
Salesforce Applications
Salesforce includes prebuilt applications (or "apps") for customer relationship management (CRM) range from Salesforce automation to partner relationship management, marketing, and customer service. 
Lightning Platform
Salesforce Lightning is the first platform as a service (PaaS). Developers can create and deliver any business application entirely on-demand and without coding. The platform also includes easy-to-use point-and-click customization tools to help you design solutions for your unique business requirements without any programming experience. 
AppExchange is a pre-loaded app marketplace with a plethora of pre-configured, pre-designed, and pre-integrated Apps that work in tandem with every Salesforce application. 
All these apps are readily deployable in the CRM. Besides, you can tailor them to match customers' requirements, thus enabling 70% of Salesforce customers to consume at least one app. Owing to such plug-and-play and customizable features, Salesforce has already recorded a whopping 4 million app downloads to date.  
Salesforce.com Community
It is a discussion platform for everyone in the Salesforce ecosystem, including Admins, Developers, Consultants, Architects, and business users. When a user posts an issue in the community, the other members share their knowledge to resolve it. Further, it documents the discussion to serve as a reference to other community members. 
Customer 360
Customer 360 is a revolutionary concept that encompasses all aspects of your operations and business management. It is not a single tool but a gamut of products and services functionality to carry out various job functions in your organization. 
Trailhead
Trailhead is the most reliable learning platform for beginners to hone their Salesforce skills and jumpstart their Salesforce careers. It is open for anyone willing to learn and master the technology. Customers, users, partners – all can access this learning platform and earn badges that add to their professional reputation.  
Related Reading: Salesforce Career Guide for Beginners
Salesforce Clouds
Salesforce CRM offers services through the following cloud within Salesforce: 
Sales Cloud: Mainly focused on streamlining the sales process of your organization. It helps the sales team to track the deals faster and efficiently.
Service Cloud: Sales Cloud is the perfect customer relationship management solution. It mainly focuses on the case object where you engage with customers on their issues and helps in their prompt resolution without any business failure. 
Marketing Cloud:  This manages your campaign and increases your reach to the customers.
Community Cloud: Using this platform, you can share data with your customers and partners with varying levels of accessibility. 
Analytics Cloud: This AI solution is well known as Einstein analytics or tableau CRM. It analyzes your data on other cloud syncs and changes how your organization deals with critical customer issues.
Apps Cloud: Salesforce App Cloud is a collection of development tools such as AppExchange, Force.com, and Heroku, that allow developers to create applications that seamlessly run on the Salesforce.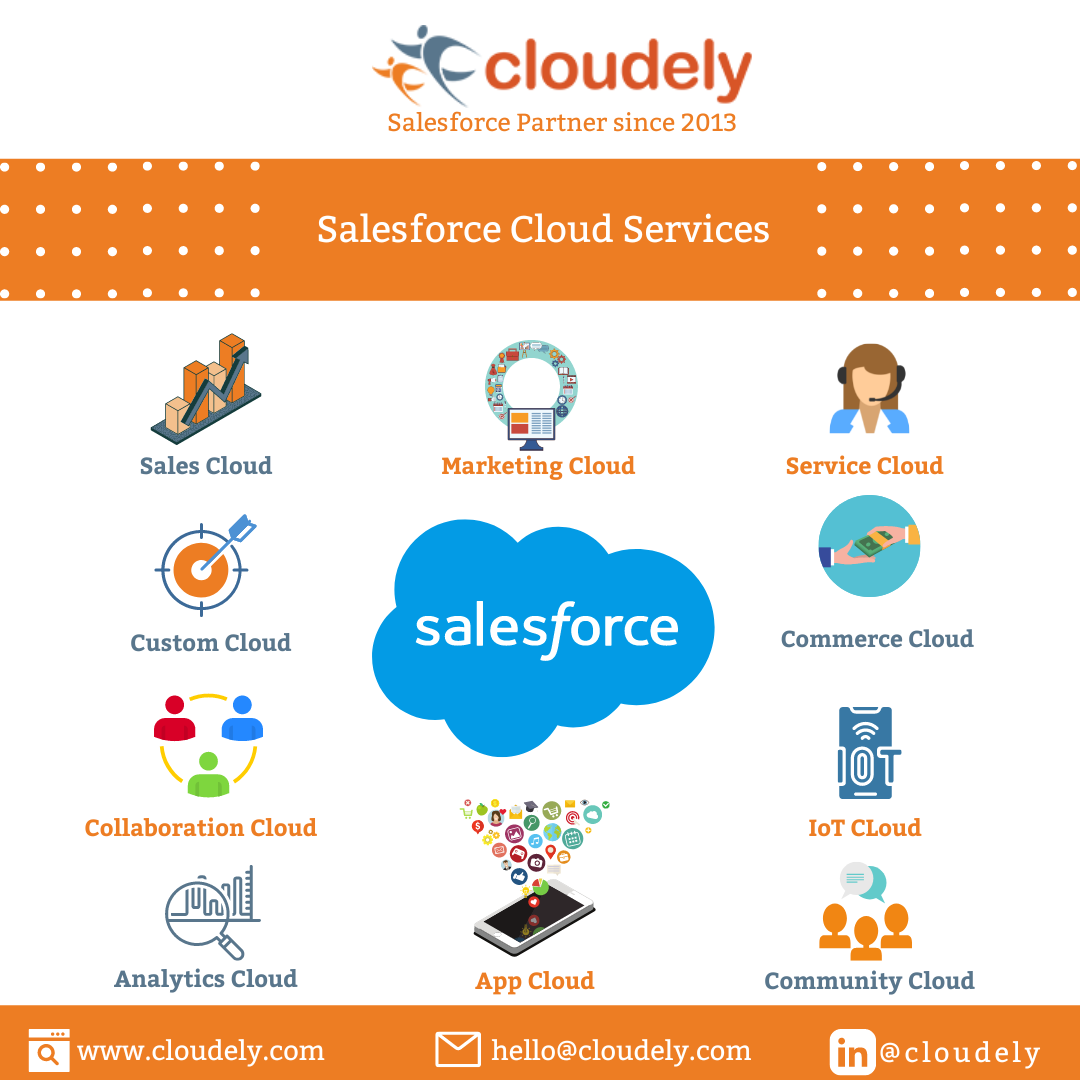 Potential and Future
Its unique features and extensive capabilities make Salesforce a chosen platform for experts to streamline sales and design all-comprehensive pricing, billing, and order management solutions. According to market projections, Salesforce expects the total addressable market (TAM) of its entire portfolio of services to grow at a CAGR of 11% between fiscal 2021 and 2025 into a $175 billion market.
The question is, are you leveraging the potential of Salesforce yet?
Partner with us

Keen to seize the potential of this thriving Salesforce ecosystem? Partner with us today. Reach us at hello@cloudely.com for any queries related to Salesforce implementations, training, support and app design. Connect with us on LinkedIn and stay tuned for the latest updates.