Salesforce Classic and Salesforce Lightning are two different user interfaces (UIs) for the Salesforce platform. Both provide access to the same underlying data and functionality, but they differ in terms of their design, user experience, and features.
What is Salesforce Lightning?
Introduced in 2017, Salesforce Lightning provides a more modern and interactive interface and is designed to improve the user experience and increase productivity. It is the next-gen Salesforce platform which includes the Lightning experience for the user, the powerful Lightning platform for fast and easy app development, and the AppExchange ecosystem for ready-to-install solutions.
With the power of Lightning, an organization can transform its entire business and benefit everyone in the company, from executives to business users and from admins to developers. But, how to migrate classic to Lightning in Salesforce? Is the journey smooth and is it worth your return on your investment?
If you are one such business keen on Salesforce Classic to Lightning migration, here we present everything you need to know about how to migrate Salesforce Classic to Lightning and what are the benefits of doing so.
Salesforce Lightning Benefits
Salesforce Lightning has a faster and more responsive layout that automatically adjusts to the size of the screen and device, which makes it easier to use on mobile devices and is very helpful in providing flexibility to Sales teams.
Salesforce Lightning comes with Einstein Analytics, which helps in deep AI-based analysis of data and reports and suggests custom solutions that will improve the overall business performance.
The Lightning Path feature of Salesforce Lightning stands out because of its ability to identify crucial stages in any quote, lead, or opportunity life cycle and also offers critical insights on every step.
In addition, Salesforce Lightning improves user experience as it works on dynamic web components built on the Lightning Web Components (LWC) and helps create custom solutions for organization-specific needs.
Kanban View provided by Salesforce Lightning allows organizations, teams, and individual users to visualize, track and manage their way more flexibly and efficiently. It increases business productivity by providing an easier way to collaborate on work items that can be shared among team members with a simple drag-and-drop functionality.
There is also a better representation of Reports and Dashboards with Lightning Report Builder, which are now easier to understand with the glance of an eye, to store in folders and subfolders, and also can be subscribed to for regular report generation of similar patterns.
Tools like Process Builder and Lightning Flow Builder reduce the effort by automating complex processes. And there's more to Lightning besides LWC Components and the App Builder.
Salesforce Lightning provides a drag-and-drop building feature, a reusable components library for designing quick solutions, and no code development in the projects.
To sum up the Salesforce Lightning benefits in one sentence:
By not upgrading from Salesforce Classic to Lightning, you are paying for the Salesforce license cost but depriving yourself of the innovations and features that Salesforce brings in every quarter.
Related Reading: How Salesforce CRM helps Healthcare organizations?
Benefits of Migrating from Salesforce Classic to Lightning
If you are still contemplating the benefits of Salesforce migration from Classic to Lightning, then here are some statistics by Forrester Consulting on how Salesforce classic to lightning migration helps organizations:
The sales productivity increases by 25%.
Lightning offers 29% faster reporting than Salesforce Classic.
Business Collaboration gets a boost of 40%.
Improvement in win rates by 25%.
Time savings of about 28% in Standardizing processes.
50% faster time to market and 25%-time savings in developing the solution.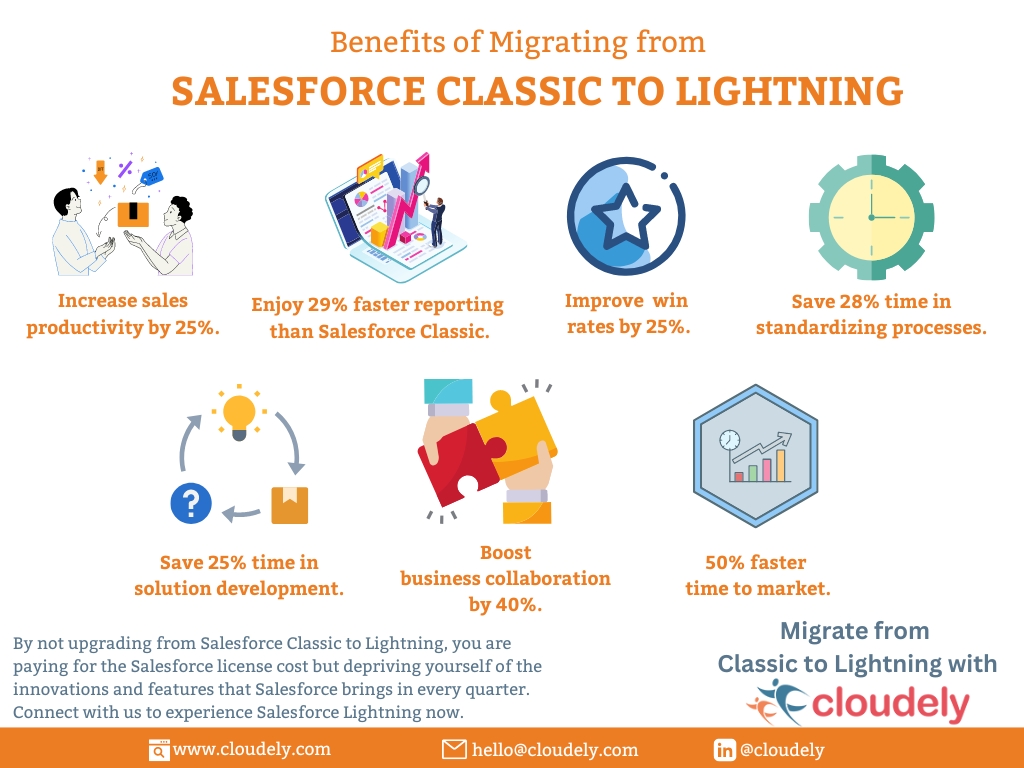 Salesforce Classic to Lightning Migration Step by Step
Step #1: Planning
Create a project plan that includes timelines, milestones, and stakeholders.
Assess your current Salesforce Classic environment to identify any customizations or integrations to address during the migration.
Identify the complex workflows and processes of Sales and Marketing that Salesforce Lightning cannot address and discuss how to approach the solutions.
Identify the users affected by the migration and involve them in the process.
Identify the Salesforce Classic features that your organization still requires.
Step #2: Preparation
Create a Sandbox environment to test the migration.
Back up all crucial data and configurations.
Identify customizations or integrations to rebuild in Lightning.
Identify the additional features available in Lightning that will help automate the current manual Business Processes.
Step #3: Migration
Begin migrating your data and configurations to the sandbox environment.
Test the migration in the sandbox environment to ensure that everything is working as expected.
Migrate any customizations or integrations that need to be rebuilt in Lightning.
Step #4: Rollout
Create a rollout plan that includes a timeline, training, and communication.
Communicate the migration plan to all affected users and provide training as needed.
Roll out the migration to a pilot group of users to gather feedback and identify any remaining issues.
Once all the issues have been resolved, schedule the final migration and rollout to all the users.
Step #5: Post-migration
Monitor the migration to ensure that everything is working as expected.
Provide ongoing support and training to users as needed.
Continuously review and optimize the new Lightning environment.
Best Practices for Successful Salesforce Migration from Classic to Lightning
Some of the best practices to perform a successful and stress-free migration from Classic to Lightning are:
Use Lightning Experience Readiness Check 
Assess your organization's readiness for Salesforce Classic to Lightning migration, the potential issues that may arise during the process, the users that would be affected, and the gaps in functionalities that Salesforce Migration from Classic to Lightning may not address.
The readiness comes with a report with labels such as "The Good Stuff", "Needs some attention", and "Which users are ready", such categorization makes it very convenient to look into what is urgent and what you can leave behind for the following phases.
Use Lightning Migration Assistant 
For a smooth and optimized transition from Classic to Lightning with lower risks, use Lightning Migration Assistanct provided by Salesforce. It monitors and automates the data migration and customizations, helps to test the migration in a sandbox, and creates a rollout plan with timelines, training, and communication. This can be customized as per the organization's needs.
During Salesforce Classic to Lightning migration, the data does not have to be imported again nor do the customizations need to be recreated. However, you need to ensure data integrity, so keep your data management and migration plan handy to avoid last-moment panic.
As Lightning manages user permissions differently than Classic, Upgrade the security settings and user permissions to align with the new possibilities of Lightning.
Related Reading: How do Salesforce Managed Services help your Business?
Challenges during Salesforce Migration from Classic to Lightning
Redundant Customizations
 A highly customized Salesforce Classic environment makes the migration process more difficult.
Function Overload
The big door of possibilities that opens up with Salesforce Lightning may allure business users to have multiple exciting and customizable features, but this can cause a functionality overload.
Wrong Timing
 If an organization chooses the wrong timing to go for the transition from Classic to Lightning, it can cause a plethora of pending tasks along with project delays and monetary loss.
Implementation Delay and Lack of Readiness 
There could be a delay in the Lightning implementation post-migration because of a Lack of User Readiness.
Listen to the podcast "Salesforce Classic to Lightning Migration", where our Senior Business Analyst Ms. Sakshi Gupta walks you through the migration process comprehensively.
Experience the Power of Lightning with Cloudely
Migrating to Lightning from Salesforce Classic can be challenging both technically and to manage resistance to change in stakeholders.
At Cloudely, we assure a smooth transition from Classic to Lightning from Planning to Post-migration. We offer our assistance in setting your KPIs, provide detailed documentation and relentless ongoing post-migration support and user training until the very last business stakeholders attain confidence about their Salesforce usage skills.
Connect with us at hello@cloudely.com to experience Lightning at a Lightning speed.