Account-based marketing(ABM) realizes this ideal scenario: targeting the right leads straight away and closing the deals faster. Companies that invested in ABM experienced a 234% increase in their customer pipeline. The secret behind this staggering benefit: the unique ABM tactics that align sales and marketing that productively target the chosen set of accounts.
If you are a B2B business keen on capitalizing on the ABM benefits, here we reveal the best ABM tactics you must implement right away. Let's move on.
Why is ABM a unique strategy?
Since its development in the early 2000s, ABM drew the attention of marketers and B2B businesses at a unique pace.
According to HubSpot:
57% of marketers say their organizations have implemented ABM for more than one year.
43% of companies implementing an ABM strategy are in the early stages.
23% of marketers agreed they have been leveraging ABM for more than 2 years.
Owing to the groundwork it demands with account planning and mapping, sales, and marketing alignment, offers, and metrics, ABM helps B2B businesses look beyond the sales pitches and to offer the products and services that client really needs.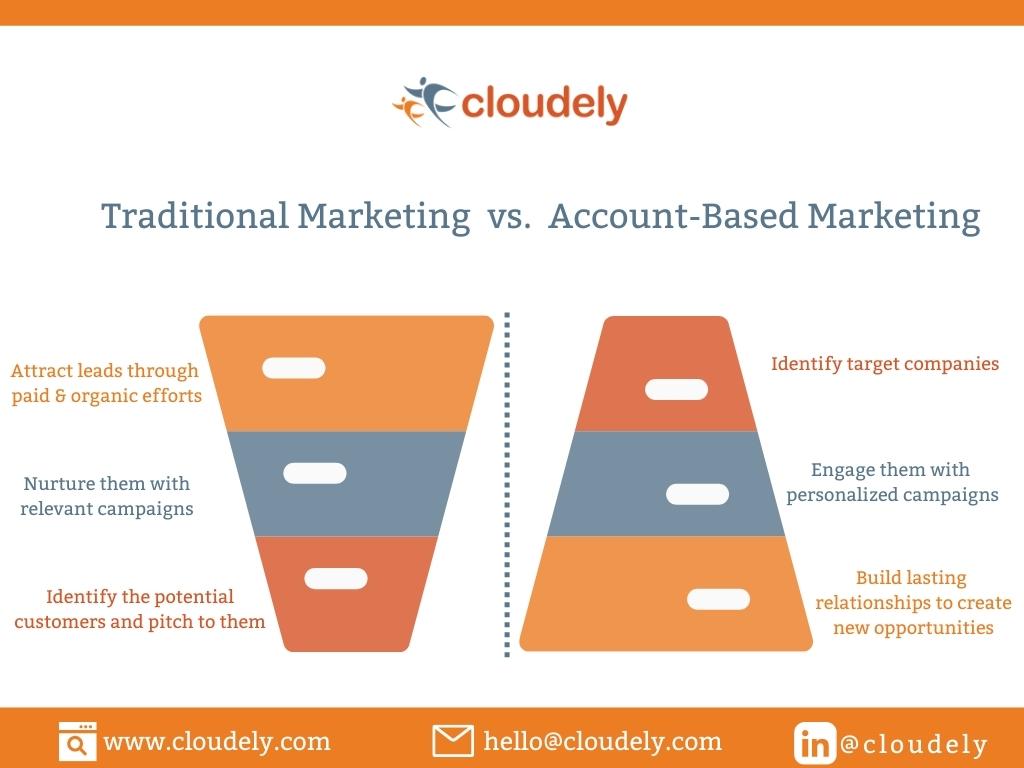 With a perfectly crafted ABM strategy driven by the best ABM tactics, your sales and marketing team are ready to leap in to engage and delight your targeted accounts more effectively than ever.
New to ABM? Check our detailed ABM Glossary.
ABM Marketing Strategy Step by Step with Best ABM tactics
Here we detailed the ABM marketing tactics step-by-step to strategize an ABM marketing strategy that offers a higher success rate.
Step #1: Build your ABM Team
Though the name contains marketing, ABM is a collaborative strategy that demands the participation of team members across the organization. Here are essential stakeholders you will need to have on your ABM team:
Account Leader: Responsible for creating ABM plays, ABM Goals, and KPIs. Leads and educates the team about ABM best practices.
Lead Marketer: The point of contact for cross-functional collaboration and assessing, measuring, and reporting the success of ABM strategy.
Strategic Advisor: An executive person capable of offering strategic guidance for the whole team and the process. Also responsible for ABM template creation and brainstorming.
Sales Expert: A sales representative adept with metrics, databases, and reports. They also play a vital role in selecting the target accounts.
Support Executive: Guides the existing accounts with cross-selling and up-selling and identifies new opportunities.
Customer Success Representative: An expert from your customer success team who focuses on customer retention.
Step #2: Choose the right accounts
The success of your ABM marketing strategy depends on the account selection. When you choose the right target accounts, account engagement, deal velocity, and size- get streamlined.
Use the pointers below to choose the right accounts that improve the success rate of your ABM strategy:
Re-engage with prospects of mentionable size who have already shown interest in your offerings long back but backed off for various reasons. Educate them about your current capabilities and invite them for a quick meeting.
Create an ideal customer profile (ICP). An ICP is the best fit account that you would want to target through your diverse ABM tactics. Focus more attention on companies that are a perfect match with your ICP.
Focus on cross-selling and up-selling to your existing customers. It is easier to accomplish than finding new ones.
Filter out targets that need little time for conversion. Speed up the pipeline velocity with alignment between sales and marketing through smarter content, targeted ads, social media, and personalized emails.
Be data smart. Draw company-level insights by capturing Technographics and Firmographics.
Technographics help you to boost your win rate. Choose companies that implement competitive solutions and clarify how your offerings fare better in aspects such as user adoption, cost of ownership, and ease of doing business.
Firmographics help you target accounts that best fit the parameters: company size, industry, number of employees, estimated revenue, estimated growth, and number of locations.
Reach the right people. One of the best ABM tactics is to contact the right individuals to reduce the sales cycle time and accelerate the conversion time. Studies show that connecting with the right accounts shortens the sales cycle by 50%.
Additionally, build an influence matrix of the people you are about to contact based on these parameters:
Designation
Association with the company in years
Decision-making power
Relation with the Account
Activity/engagement history
Skills and proficiencies
Expertise in your category
Step #3. Align your sales and marketing
One of the super-beneficial aspects of ABM compared with traditional funnel marketing is that it saves resources and costs by directing attention to the right targets.
To boost the pipeline velocity, align your sales and marketing efforts to provide personalized content and services to the targets based on their profiles and allot the budget accordingly.
The bottom line of ABM strategy lies in the four main stages:
Account Identification
Reaching the Target accounts
Closing the Deal with the Target accounts
Nurturing Relationship with the accounts to Widen the Sales Base
Related Read: How to set SaaS OKRs?
To accomplish these, pose the following questions to your sales and marketing teams to make sure that the efforts are aligned:
With whom to interact for every account?
What is the content type that engages and delights the accounts?
What is the preferred channel to distribute the content with the accounts?
What is the role of the sales representative in attracting the account and the marketer's role in engaging them?
Tailor your content marketing efforts and create personalized offers and content that caters to the needs of individual accounts.
Step #4: Expand the relationships with the accounts buying committee
Once you have landed the right accounts, here comes the next step – building a bond with them to offer them a delightful experience.
Create value-adding and tailored content – blogs, webinars, eBooks, guides, case studies, digital ads, emails, and downloadable pdfs that educate and engage your accounts.
Treat the accounts with priority and let them know the same. Organize one-on-one interactions and events regularly on a personal level to make them feel valued.
Go the extra mile with personalized gifts. Foster a connection with your accounts with thoughtful gifts they would cherish.
Leverage email sequencing to build a bond that lasts longer.
Step #5: Measure the success of ABM strategy regularly
It is vital to monitor the success of your ABM tactics by comparing the KPIs and the metrics at regular periods. It helps refine the ABM tactics and assess the success rate of your ABM strategy.
Ideally, watch the following metrics to measure ABM success:
Deals closed
Account penetration
Account engagement
Time taken from deal creation to closure
New revenue generated
Percent of deals closed
When creating the report, segment it for ease of analysis, repurposing, and future use.
Leverage the right tools for your ABM success
ABM offers exponential returns when you invest in it right. Ask us how to utilize CRM and CPQ your customer engagement and deal closure success. Schedule a meeting with our team to plan and implement your ABM strategy the right way. Connect with us on LinkedIn.