Contract life cycle management (CLM) encompasses end-to-end handling of contracts from their drafting to expiration and renewal. CLM mitigates an organization's financial and legal reputational issues among all the stakeholders – internal and external. The complexity of contracts varies from one to another. Without a structured contract lifecycle management, it can be cumbersome to track contracts. This article discusses stages of contract lifecycle management step by step and shares a CLM Process map to establish optimal contract management in an organization.
The Different Stages of Contract Lifecycle Management
Contract lifecycle management moves beyond contract management by focusing on requests, authoring, negotiations, approvals, signatures, obligations, compliance, and renewals. In other words, CLM benefits all stages of contract handling. It boosts sales and revenue and enhances the customer journey and company reputation. As we move ahead, let us delve into the contract lifecycle management process and the essential inputs, deliverables, and outputs at every stage.
Stage 1: Request and Generate
Here, the negotiations with a potential business partner or vendor trigger a legal contract. The sales and legal teams explore the reasons for the contract creation, gathers necessary documents from all parties, and clear the roadblocks by seeking approvals from the senior management. An initial draft of the contract is created that may undergo revisions at later stages.
At this stage, the contract team must gather project goals, critical dates, and contract activities to be documented in the contract. Such comprehensive documentation helps faster audit trail. Essential tasks and best practices at this stage include:
Comprehend the contract necessity, identify vendor needs and documents and establish goals.
Define risk mitigation methods and set expectations.
Prepare a draft with all essential clauses, terms, and conditions in unambiguous language.
 Stage 2: Negotiate and Approve
Here, negotiations occur among all parties in alignment with contract playbooks and best practices. Contract terms and clauses are detailed with transparency among the legal team, internal executives, external stakeholders, and the vendor/customer.
Once both parties agree on contract terms, the draft undergoes a review. Depending on the organizational contract management, the contract review may happen in parallel or through series approval.
Thus, the contract document is disclosed among all stakeholders and sent for review for final approval at this stage 2. Here are the best practices that make this stage efficient:
Address all concerns of all stakeholders- internal and external and circulate the draft to identify areas of improvement.
Circulate recommended revisions to both parties, incorporate feedback, document the changes, and save contract versions at a central repository.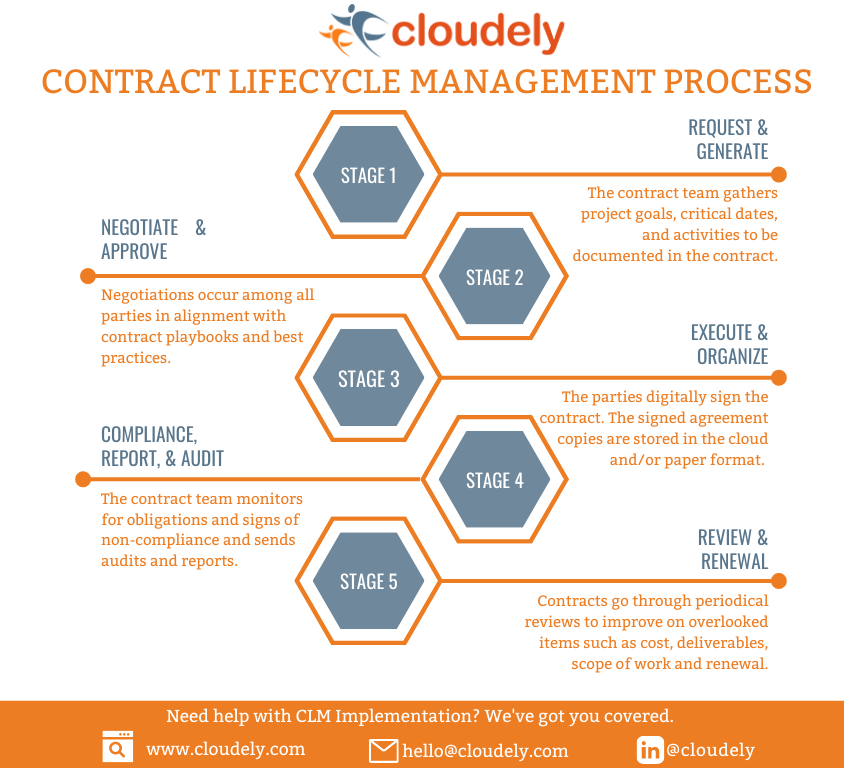 Stage 3: Execute and Organize
Here is when the parties sign a mutually agreed contract that has undergone revisions and come to a final shape. Parties are now clear about the end-to-end contract terms and are on the same page, and no further changes may be necessary.
A signature process follows a contract agreement, which usually involves e-signatures for security, convenience, and compliance.
The contract comes into effect with signatures. The signed agreement copies are distributed to all parties and stored in the cloud and/or paper format. Companies that use CLM software can easily track, save and retrieve contracts, thus simplifying their contract management.
Besides, a CLM ensures efficient record management, enhanced contract visibility, and faster contract retrieval through metadata and relevant keywords.
Suggested Reading: CLM Trends and Future
Stage 4: Compliance, Report, and Audit
After signing contracts, parties must adhere to contract regulations and avoid breaches to prevent penalties and contract termination. The contract team monitors for obligations and signs of non-compliance and sends periodic audits and reports. Audit reports identify the deficiencies in the risk contract. Some usual components of contract audit reports include:
Payment, billing invoice details
Customer rating and quality feedback
Milestones and deliverables
The burn rate and expenses
Stage 5: Review and Renewal
Contracts go through periodical reviews to improve on overlooked items such as cost, deliverables, and scope of work. Parties may terminate contracts upon poor vendor performance and other irreconcilable issues.
Successful contracts are renewed with mutual consent to extend the partnerships. CLM tools send alerts before contract expiry so that organizations do not miss out on the benefits of the contract renewal.
Suggested Reading: Contract Management Challenges in Aviation
Simplify your contract lifecycle management with Cloudely
Get in touch with our CLM experts to know how contracts can translate into revenue and reputation. Contact us.