For any business that relies on contracts and legal agreements, contract lifecycle management (CLM) simplifies the otherwise tedious and error-prone tasks. However, a subpar contract management comes with its set of pain points: dealing with multiple parties, long turnaround time, limited collaboration, and visibility.
With our decade-plus experience in offering the best CLM solutions and trusted contract management services to global businesses, we have witnessed and helped overcome the contract lifecycle management challenges businesses face.
Below we discuss how to handle contract management pain points and solve contract lifecycle management challenges using the best CLM solutions.
Challenge #1: Gaps in Access
Contract management often demands the partaking of several teams such as Legal, Sales, Project Manager, Vendor Manager, Procurement and Contracts Manager.
With teams turning hybrid and remote, the necessity for a secure and accessible repository for contracts is imperative.
Additionally, gaps in the access of contracts can lead to limited process control and bottlenecks in the contract cycle.
Solution:
Set up an automated and secure contract management solution where every user has their role-based permission to access and work seamlessly, irrespective of their work location.
Besides, automating is one of the effective ways to handle contract lifecycle management challenges. Ask us how you can achieve CLM automation seamlessly.
Challenge #2: Insubstantial Visibility
Contracts often traverse multiple hands. An edited document may sit tight in drives or local folders, leaving others with limited knowledge about the current status.
Studies confirm that this lack of updated information on the contract status is a nagging problem.
Additionally, clear visibility of contract terms, obligations, and value to all stakeholders involved can trim the time to work with contracts. It also eases tracking of contract expiry and renewals.
Solution:
Improve business outcomes by saving and organizing contracts. Our best CLM solutions store contracts in a secure contract management platform and offer comprehensive visibility of the contract status to everyone who accesses them.
Challenge #3: Longer Contract Turnaround Time
The very nature of contracts that necessitates the involvement of multiple players adds to the contract closing turnaround time. The template selection could be consuming time. Or you have lost the changes your client has suggested via emails.
In practice, contract closing time and customer retention rate are directly related. When the contract management process can offer fresh and faster insights into renewal dates, pricing updates, legal requirements, and other events, enterprises are more empowered to close contracts faster.
Solution:
Contract management solutions are one of the fitting ways to handle contract management pain points as they can compress the turnaround time drastically. Goldman Sachs observed that using a CLM reduces the average hours spent on contracts by 20 percent.
Cloudely helped global companies to clear their contract collaboration bottlenecks and reduce the time needed in new contract creation with its best CLM solutions.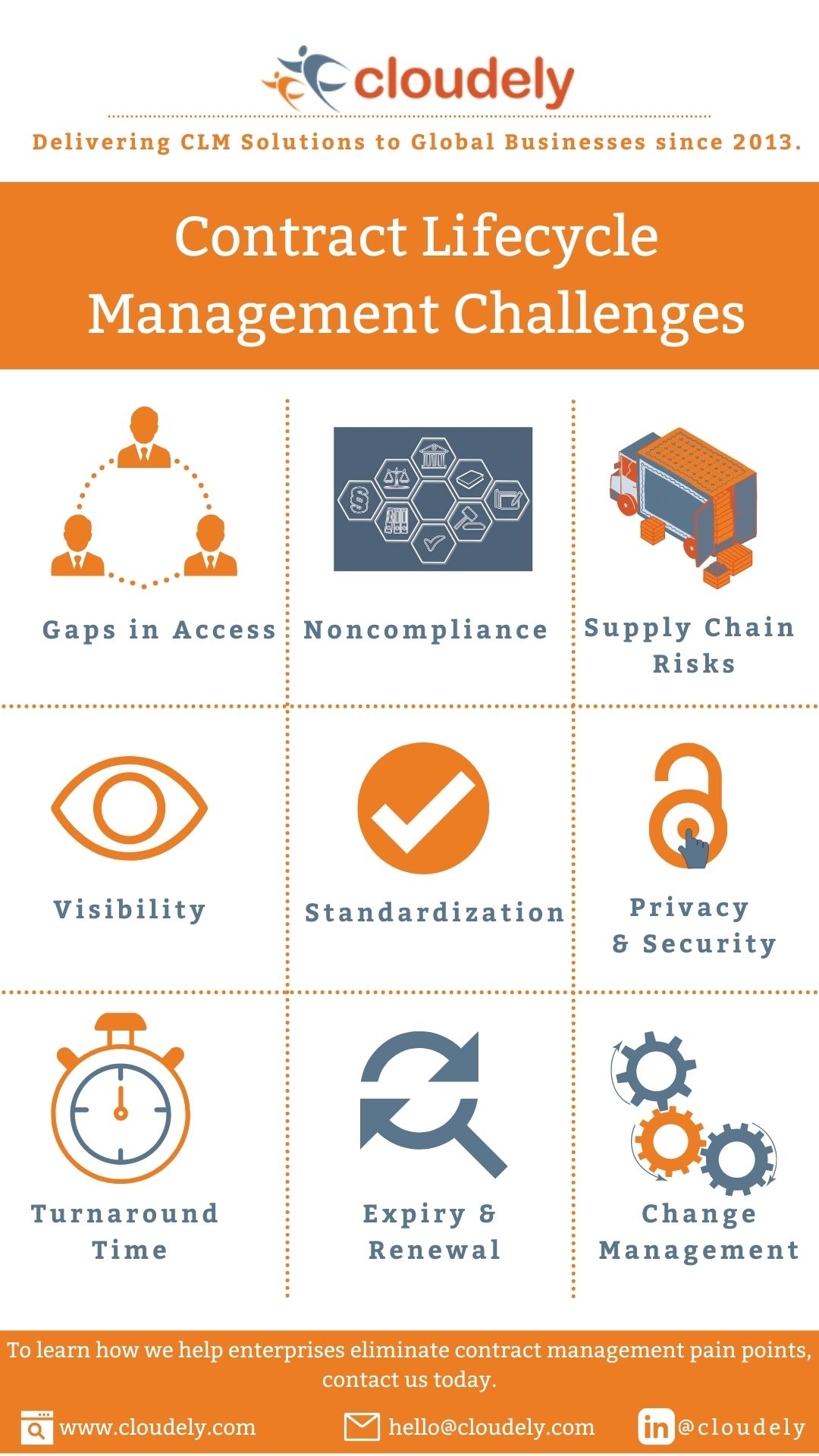 Challenge #4: Contract Noncompliance
Contract compliance can make or break your business. Deviation from adherences can cost companies heftily. For instance, GDPR fines can be up to 4% of annual global turnover or €20m, whichever is greater.
Adherence to contract compliance can avoid such financial implications and gives you an edge in gaining the trust of customers and partners.
Solution:
Contract lifecycle management offers a systemic and holistic way to track and manage contracts. The best CLM solutions smoothen away the related contract management pain points, i.e., the inclusion of necessary clauses and regulatory language.
Cloudely's CLM offerings helped businesses to align to compliance regulations and quickly respond to regulatory changes.
Challenge #5: Absence of Contract Standardization
Adhoc contract authoring processes and non-standardized terminology can consume manual hours during contract review and finalization. They also deprive the customer of confidence and adds risk due to the non-adherence to standard legal terminology.
Solution:
A standard contract can reduce cost, quicken bidding, and create confidence in contract terms. Ask us how contract lifecycle management can offer an enterprise-wide contract management solution that takes your customer confidence and reputation to another level.
Challenge #6: Supply Chain Risks
One of the prime disadvantages of companies that lack contract management is their poor immunity to supply chain fluctuations. With no written, compliant, and standard contracts, companies are at the risk of losing money with market fluctuations.
Solution:
Contract management can constructively address supply chain risk. CLM offers well-documented contracts stored centrally and efficiently managed throughout their lifetime, ensuring peace of mind to businesses from supply chain risks.
Challenge #7: Privacy and Security
Data privacy and security is one of the vital contract lifecycle management challenges. Any exposure to sensitive data can be detrimental to the enterprises. With multiple parties handling the contracts, contract privacy and security is a hard-to-ignore aspect.
Solution:
Privacy and security are the top contract management pain points CLM addresses. It provides safe and secure storage space to contracts striking a balance between visibility and security to precision.
Challenge #8: Untoward Expiry and Renewal
Expired contracts can pose serious ramifications to enterprises. A delay in identifying and renewing expired contracts can slow down businesses. They occur with challenges such as no-obligation to set prices and inflation cost of the contract renewal.
Solution:
Contract management simplifies contract audits and notifies upcoming contract expirations. CLM leaves all parties ample time to make decisions about contract renewal and saves them from costly mistakes.
Challenge #9: Erroneous Change Management
Changes are a part of the strategic handling of contracts. Tracking changes in a contract assumes importance for various reasons.
Changes tracked on time can control rising costs. They provide insights into the new opportunities and helps both parties stay diligent about contract tracking. Any mistake or gap in tracking changes can demand painstaking efforts.
Solution:
The best CLM solutions simplify the end-to-end of contract change management. They throw clarity on what constitutes a change, ascertain when the change gets implemented, and establish the process that follows the change.
Besides, they update about the change to every stakeholder involved in the contract handling, thus maintaining a smooth status flow and updated communication. CLM solutions provide clear insights on the impact to non-recurring cost, schedule, and new risks, if any, because of the change.
Key Takeaways
Contract lifecycle management consists of multiple phases that demand involvement from various parties. A poor flow of contract handling can cause gaps in inter-party communication, attract legal penalties, delay business functions and impact reputation.
A CLM in place can easily overcome contract management challenges. An automated CLM handles all contract management pain points, thus rendering enterprises deserved confidence to face business challenges and customer retention.
To learn how we help enterprises eliminate contract management pain points, contact us today. Connect with us on LinkedIn to stay updated.