Contract lifecycle management empowers companies to gain an edge through their contracting efficiency. Businesses that implement the best practices of contract lifecycle management through the state of art CLM solutions benefit from end-to-end contract making and handling.
CLM has evolved from its traditional two-dimensional buy-sell sides to catering to multiple parties. Modern CLM solutions provide a robust platform to access and manage buy-side, sell-side, and non-buy-side, sell-side contracts.
The Future of Contract Management
Like in any other industry, digital transformation has pervaded contract management, creating a host of new opportunities. On the other hand, the contract management challenges seem to evolve as businesses scale.
According to research estimates:
Almost 60-80% of business transactions run on written contractual agreements.
A standard Fortune 1000 company maintains 20,000-40,000 active contracts.
By 2023, 90% of global businesses will have contract lifecycle management solutions implemented.
WorldCat indicates that poor contract management costs companies 9% of annual revenue.
IACCM finds that organizations would lose 5% to 40% of deal value, depending on circumstances.
Contract management is never an optional implementation for businesses. Studies strongly suggest CLM implementation and its impact on overall business revenue. With an expansive digital transformation in the near future, these challenges may only aggravate, hence demanding more robust CLM solutions.
The Global Picture of Contract Management 
The rapid digitalization and the penetration of remote collaboration necessitate enhanced contract visibility for the stakeholders. CLM plays a vital role in satisfying these necessities and helps businesses make large-scale partnerships.
Fact.MR performed intensive research on contract management trends and the future of contract management. Here are its key findings:
The global CLM market size at US$ 845 Mn in 2022 is forecasted to reach US$ 3 Bn by 2032 at a CAGR of 13.5% during the mentioned period.
The USA would emerge as the biggest CLM Implementation market by 2032 with a 10% CAGR. In the East Asian region, it is China that may hold the dominant share.
The growth in affordable corporate apps and CLM systems is the driver behind the economic expansion in countries such as China and India.
Sector-wise, government, healthcare, pharmaceuticals, information technology, and telecommunications would remain the top consumers of CLM implementation.
On the other hand, the highest Y-o-Y growth is expected to be in the BFSI industry.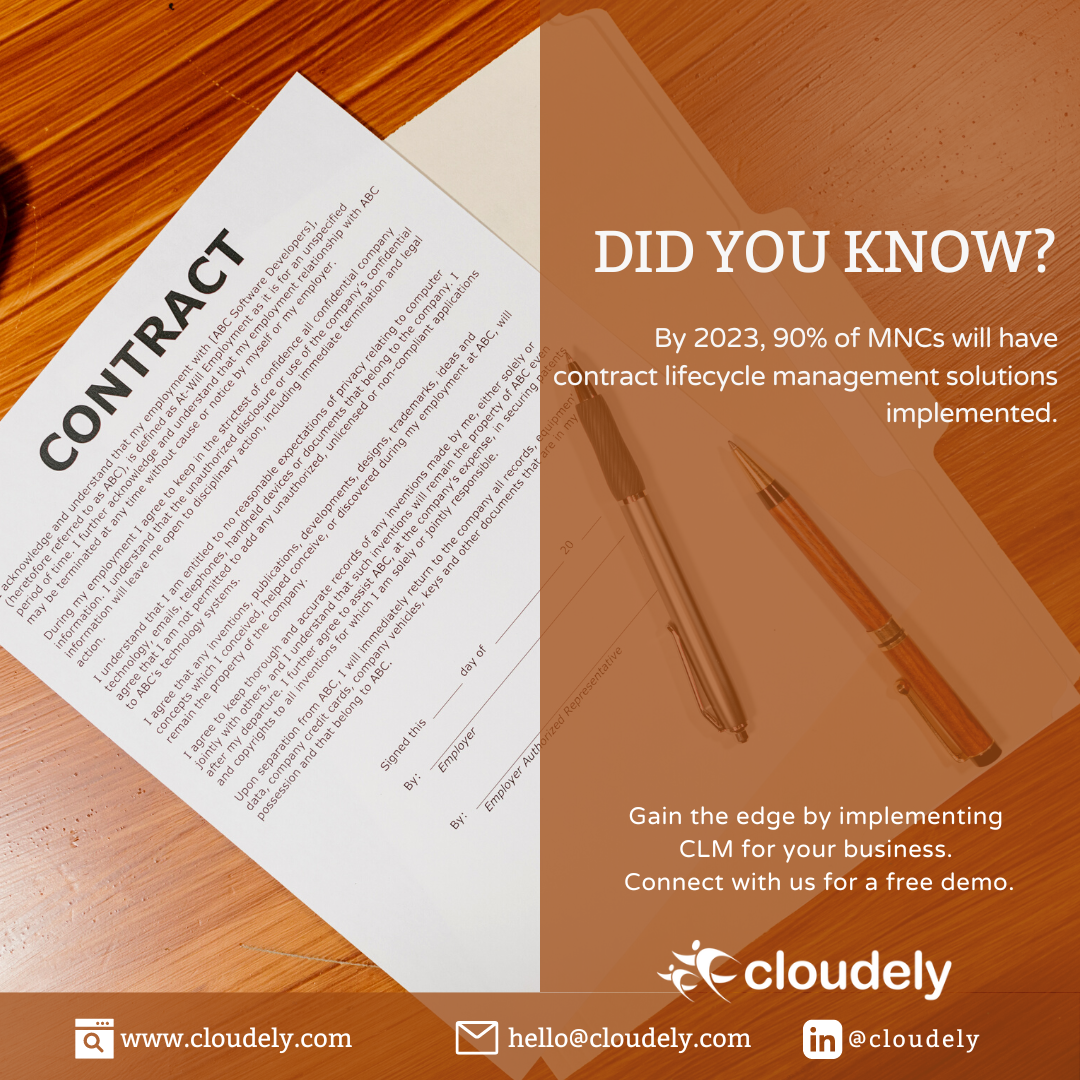 Benefits of CLM implementation
Contract errors can cause businesses to lose a chunk of revenue and reputation. In addition, the absence of streamlined contract management could cost companies hefty due to substandard delivery, penalties, missed payments and auto-renewals.
Organizations with on-premise contract lifecycle management implementation enjoy:
Adherence to compliance
Big savings on annual hosting charges
Ability to track contract performance
Better security and backups
Timely audits for outdated contracts
Accelerated contract creation, agreement, and renewals
Related Reading: Benefits of CRM
Contract Management Trends 2023 and Beyond
Thanks to contract management, technical and legal departments can focus more on productive tasks and less on mundane work. The rapid technological advances are yet to unleash the fullest potential of CLM solutions. Experts suggest that CLM will deliver more in the coming years, and businesses must be ready to embrace the contract management trends of the future as below:
#1: Scaling to the organizational level
Implementing CLM at an organizational level helps businesses grow holistically. A CLM solution streamlines the workflow among sales, procurement, HR, legal, corporate, and other involved teams boosting the contract management visibility and enhanced communication.
Enterprise contract management allows seamless workflows and reduced chances of outdated contracts and associated risks, thus improving business reputation and revenue.
#2: Leverage analytics for smarter outcomes
Remote and hybrid working styles are rapidly transforming the way businesses must handle and manage contracts. Business contracts assume immense prominence in corporate functioning as 70% of organizational operations rely on contracts. Empowering CLM with smart contract analytics allows businesses to ensure compliance in pace with changing regulatory environment.
#3: Benefit from audit trials
Smart CLM solutions increase the efficiency of contract audit trails and safeguard the activity records and paperwork of departments such as purchasing, accounting, and operations.
#4: AI-enabled CLM solutions
According to the `Global Enterprise Contract Management Market – Trends Analysis Product Usability Profiles & Forecasts to 2023' report`, CLM driven by AI will become increasingly common and grows to triple the value within the next six years. Predominantly, AI-driven CLM solutions help companies minimize risks and execute contracts with minimal hiccups.
Artificial intelligence empowers enterprise contract management with greater security and alleviated risk. CLM experts at Cloudely indicate that AI-driven CLM would be the game-changer in how businesses create, handle and manage contracts.
Related Reading: Tactics to improve customer lifetime value
Conclusion
The future of contract management promises robust and more productive CLM solutions. It predicts more secure, connected, and transparent business environment, processes and contract management. Connect with our enterprise contract management experts to book a CLM demo for your business. Follow us on LinkedIn.