The road to success for working women is bumpy. Workplace challenges such as the glass ceiling, pay disparity,  gender discrimination, sexual harassment, and unequal opportunities  women.
While theoretically, there exists endless advice for career strategies for women. However, in practice, the statistics portray a quite contrary picture. All in all, growing in career for women is always an uphill battle.
A McKinsey study that surveyed 600 companies finds that 1 in 4 women consider "downshifting their careers or leaving the workforce" due to the pandemic-infused uncertainties.
Additionally, only 85 women are promoted to managerial roles for every 100 men promoted to the same position. Plus, women hold only 38% of managerial positions, a stark contrast to the men's 62%.
That being said, career growth for women is not all gloomy. Many successful women across the globe inspire us with their tremendous career success. Their secret? A blend of hard work and approaching career growth strategically.
Whether you are already working or are contemplating a new job, the career strategies for women we curated here ascertain your career growth. Using these career tips for women, you can reach your full potential in your respective career, whether it is in tech, art, literature, or something else in its entirety.
Tip #1: Keep your resume updated
One of the vital career tips for women is to know how to leverage your resume effectively. Use your resume to flaunt your skills with confidence. Your potential employer won't know what you are good at if your resume doesn't reflect it. Take the help of a resume builder to prepare a sophisticated, well-designed resume.
Highlight your most relevant experiences and skills. If you were on a career break, stay transparent about career gaps in the resume. Add certifications, internships, and volunteering performed during such career gaps as they showcase you as an enthusiastic professional. Additionally, know how to choose a resume style that best fits your career journey.
Tip #2: Never ignore the power of networking
The power of networking has been emphasized so much that it comes across as a cliché, but we don't often implement it.  Attending technical conferences and seminars is a good way to expand your network. In fact, most companies are tuning to such out-of-box approaches to hire software developers.
Since the world has shifted to online and remote working and will continue to do so, why not find people online as well?
To expand your network, you don't have to know a person, although it will help if you do. Similar interests and professions can be commonalities to introduce yourself to others on networking websites such as LinkedIn.
For instance, say you are passionate about Salesforce. Search for "salesforce experts", "salesforce architects", "salesforce developers", etc., and connect with the tens if not hundreds of profiles that pop up. For building credibility and trust, add a personal note introducing yourself.
LinkedIn is a wonderful medium to build your personal branding. It also has a unique feature that categorizes search results according to your location, which means the first results you see will be people in your local area.
Connections who are generally willing and open to helping those around them can be your reliable professional support network. Take their advice about the essential skills you'll need for your career growth.
When feeling perplexed about finding connections that aid your career growth, remember Facebook COO Sheryl Sandberg's powerful quote when she said that she feels grateful to those who helped her grow in her career since we all need some help in succeeding. What's the worst that could happen? The person you reached out to will say no. No love lost.
Tip #3: Work on your value proposition
You must have your reasons to apply for that job: aiming for career growth, an attractive salary, health benefits, better working culture, etc. But why should employers choose you?
Employers perceive candidates from many perspectives: commitment, cultural fit, work ethics, technical and interpersonal skills. Work on your strengths in these areas to gain edge over other applicants.
Explain in your resume how you can add value to the company. Use personal interviews to create the first long-lasting impression by asserting your professional value.
Tip #4: Be open to challenges
Heard of this quote? "The greater the obstacle, the more glory in overcoming it."
Work experience without challenges would be monotonous and stagnant. Challenges aid your career growth.
In fact, embracing work challenges has always remained one of the proven successful career strategies for women. Embrace challenges that cross your path and use every opportunity to let your higher-ups know that you are open to challenges and are passionate about career growth.
Tip #5: Review your career progress periodically
Assessing your career once every year helps to build a better career strategy. By doing so, you'll also be grateful to have come this far in your career, which creates a sense of contentment and accomplishment. Furthermore, it also boosts your confidence to plan the next step of your career.
Tip #6: Seek mentor's advice
Once you've reviewed your career progress, the path becomes clear. Here's where you'll need an experienced person to look up to, who motivates you to keep going. Plus, with their guidance, you can avoid potential pitfalls because they've been there and done that.
Tip #7: Learn emerging technologies
No matter how well thought out your career strategy is, if you don't invest time to develop your skill, you will eventually find yourself in a plateau of sorts. Take pride in being a constant learner. Utilize your time wisely to gain new skills. It adds more weight to your resume and makes you a professional in demand.
Perform a comprehensive SWOT (Strengths, Weaknesses, Opportunities, and Threats) analysis right this minute to know what you are good at and the skills you need to work on. Assess how best to use your strengths to add more value to your career, and how to pivot weaknesses into learning opportunities.
To stay on the top of the career game, always stay in touch with the emerging trends in your domain. You don't have to know every technology, but do invest time and effort to learn new technologies and skills that will benefit your company. This distinguishes you from your peers and establishes your professional stamina.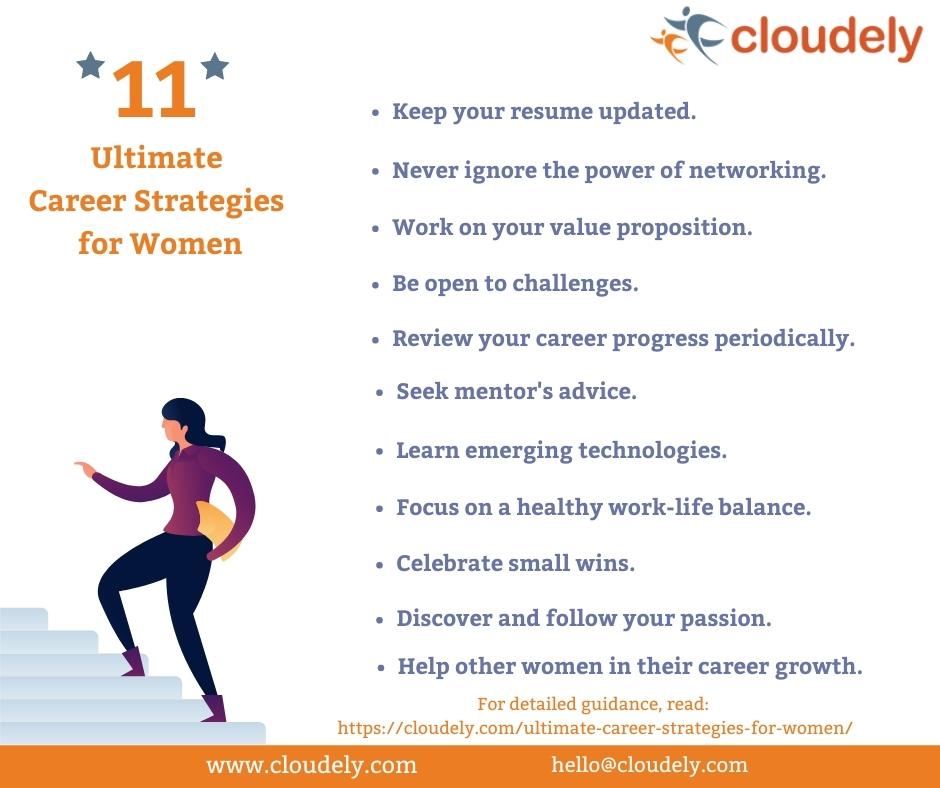 Tip #8: Focus on a healthy work-life balance
Indra Nooyi, CEO of PepsiCo, once said about working women – "The job is work and life. Home is also work and life, so there is no balance. It's a 24×7 job."
Defining work hours and family time is vital. This prevents burnout and protects your sanity. Especially, women who are working from home must separate those two worlds to deliver the best to both without getting stressed.
Focus on productivity rather than swamping yourself in endless chores. Destress with healthy routines that incorporate yoga, eating healthy and self-care. They help you in a long way towards your career success.
Tip #9: Celebrate small wins
Celebrating little achievements seem so insignificant among the career strategies for women that it slips our minds. Focusing constantly on a sizeable goal will only add to the stress and demotivation.
Instead of obsessing over bigger goals, celebrate every small success. Doing so will energize you to accomplish bigger goals with enriched enthusiasm and energy levels.
Tip #10: Discover and follow your passion
The key to achieving career growth or being the best in what you do is loving your work. Only then, you would be zealous enough to learn about your work and deliver your best.
Tip #11: Help other women in their career growth
Thanks to the powerful voices advocating for gender equality in workplaces, there is a slow but steady increase in the number of women working today across industries. But there is only so much that a few voices can do in the end.
To have a real change – a lasting one, the working women must support and lend a hand to other women to keep the momentum going.
Try to mentor a new female employee in your company, showing her the ropes to grow in her career. If you are at a top-management level, help in setting up career strategies for women employees.
Keen on beginning a career in Salesforce? Join our exclusive LinkedIn group and receive updates about Salesforce job openings and training programs.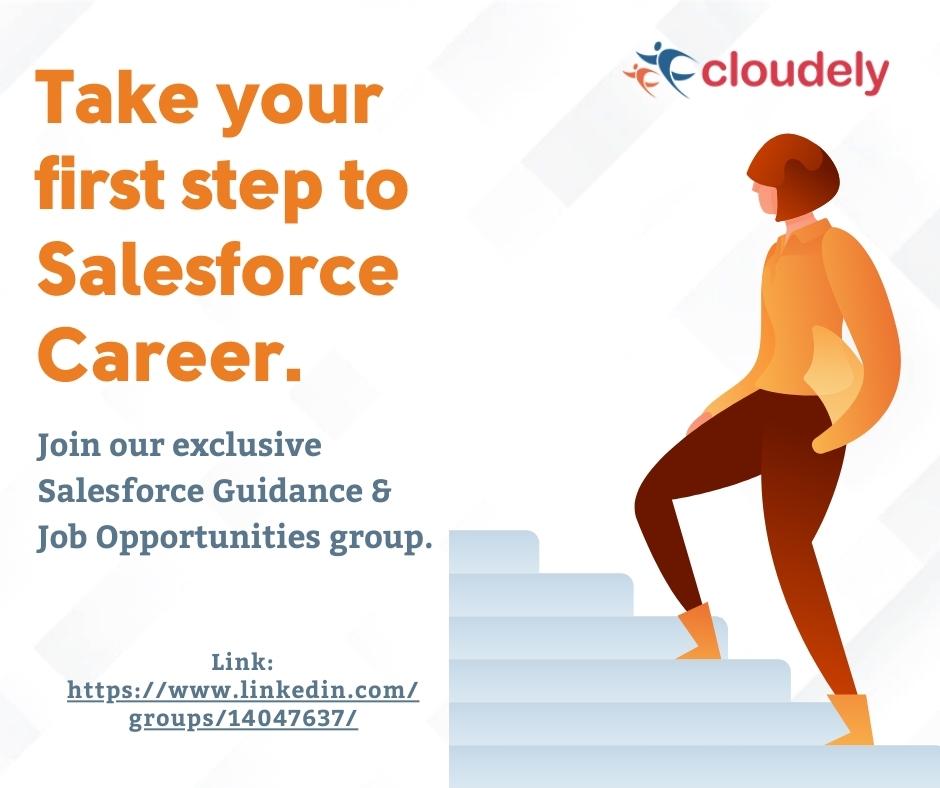 Your journey counts: Rest but never stop
These career strategies for women will build your confidence. Use these career tips for women to improve your skills, increase your chances of getting promoted, or attain other specific career goals in your mind.
Being good at what you do, being kind and helpful to your co-workers, and the willingness to take on new challenges serve well in your career. When in doubt, always ask questions. Take feedback constructively and stay on a learning path. Finally, no matter how high you grow in your career, never stop learning.
Need career guidance tips? Subscribe to our blog and stay in touch with us on Facebook, LinkedIn, and Twitter.